Oluyinka Onigbinde and Joshua Yousouph
There are indications that many ship owners may miss out on the promised disbursement of the Cabotage Vessel Financing Fund (CVFF). This is as a result of the pre-conditions given by the Federal Government, through the Nigerian Maritime Administration and Safety Agency (NIMASA).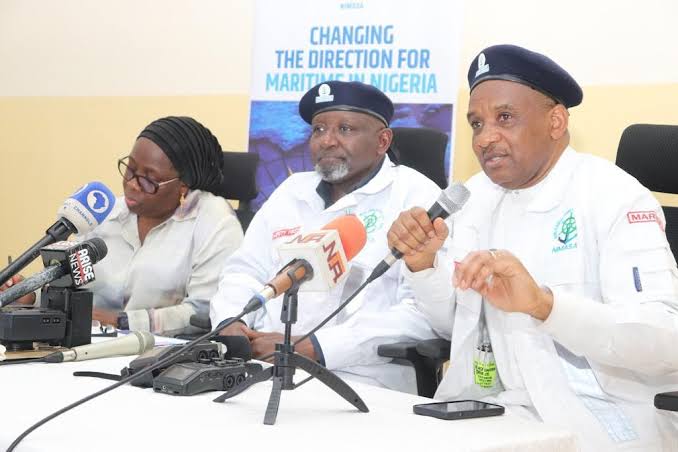 The development was heightened last week, even as indigenous ship owners have expressed fear of losing out. They lamented that the 15% counterpart funding that they are expected to provide is a deliberate impediment.
The ship owners lamented that most of them are already in huge debts and have their assets already confiscated by the Assets Management Corporation of Nigeria (AMCON).
Shipping Position Daily recalls that Nigerian Indigenous Shipowners Association (NISA) CVFF Steering Committee had paid a visit to the Nigerian Maritime Administration and Safety Agency last week to seek clarification on the disbursement which was promised late last year by the Minister of Transportation; Mu'azu Sambo.
The Minister had declared that the guidelines included applicants contributing an equity of 15 per cent, while the banks that are the primary lending institutions will provide 35 per cent equity shares, and NIMASA will provide 50 percent.
And as part of the conditions required for the disbursement, the Director General of NIMASA; Dr Bashir Jamoh had reportedly enjoined all indigenous shipowners to come up with harmonised guidelines for the disbursement.
He also added a caveat that, NISA and the Ship Owners Association of Nigeria (SOAN) must unite and possibly collapse into one indigenous shipowners' body before the CVFF can be disbursed to their members.
Sources at NISA confirmed this to our correspondent last week.
Speaking at a meeting that was called by NISA, a member; Mr. Rowaye Jibril lamented that the 15% equity could pose a stumbling block to accessing the fund, he informed that most Nigerian shipowners are already in huge debts and have their assets confiscated by the Assets Management Corporation of Nigeria (AMCON).
Jubril also lamented that the Nigerian National Petroleum Corporation (NNPC) is currently posing a great threat to ship owners as they hold on to jobs based on "Right of Refusal".
He noted that: "Most of the ship owners cannot meet up with the 15 percent, the DG of NIMASA has to be sensitized with the fact that most Nigerian ship owners don't have jobs and that is what led to the death of many shipping companies and that is why many offices in Apapa are moribund today, because the shipping companies are dead. If we continue this way, I don't see how we are going to meet up with the criteria and even when it is disbursed the money will go down the drain again".
Also speaking to Shipping Position Daily last week, the NISA Chairman Board of Trustees, Chief Isaac Jolapomo noted that although the conditions cannot be easily changed except if it goes through the National Assembly. He nevertheless lamented that many ship owners do not have the capacity to provide 15 percent equity.
Jolapamo also lamented the ridiculous requirements and collaterals requested by banks on loans to ship owners. He however noted that the committee set up by NISA is working on finding possible ways to reconsider the 15 percent equity to be provided by ship owners.
He explained that indigenous ship-owners could explore an arrangement utilized by oil and gas operators who receive 100% equity from the Nigerian Content Development and Monitoring Board (NCDMB) and the lending institutions.
He said, "If you want to raise 15 percent of N10 million, how much is it today? It is not easy for anyone to achieve. However, our committee that is working on the CVFF has been told that even the NCDMB doesn't provide 15 per cent and we can also work towards that. It is achievable. We are looking at a situation where ship owners will not have to provide 15 percent".
"If a ship has a job to do, that ship is enough collateral to the bank in other maritime nations. But in our own case, they will want to collect your mother's pants and if possible takes your father's manhood. This disbursement cannot revive shipping in Nigeria, until we adopt the method of saying we want to do it ourselves" Jolapamo noted.
Reacting to the position of NIMASA on fusing the associations, President of the Ship Owners Association of Nigeria (SOAN), Mr Mkgeorge Oyung told Shipping Position Daily that the Nigerian constitution allows freedom of association and SOAN is not ready to continue playing the age-long political gimmicks.
Onyung stressed that the CVFF is a serious issue and the conditions and requirements for its disbursement have been clearly stated.
Indicating a different position from that of NISA, he noted that the conditions given by NIMASA are not political and should be met by ship owners before disbursement.
In his words: "If NISA wants to merge with SOAN, do they have to meet the DG and get advice from him? Let us focus on the real thing to do. So why did we not merge five years ago? It was politics that made SOAN break out from NISA. We cannot continue this political rabbit hole where we leave the substance and talk about chaff. The constitution allows freedom of association".
"The CVFF is a serious issue. It is not something to be discussed on the pages of newspapers.  The conditions of the CVFF are there. It is not political. There are requirements and you need to meet them. It is not a matter for argument in the newspaper or the streets" Onyung concluded.
On his part, another ship owner; Capt Tunji Brown opined that 15 percent conditions given to ship owners is not the issue to debate or worry over. He noted that if all ship owners from NISA and SOAN can talk together with one voice, they can get 100 percent equity from NIMASA just like the Nigerian Content Development and Monitoring Board (NCDMB) in the Oil and Gas sector.
Brown noted that equity conditions are not yet sacrosanct until the Federal Government's CVFF committee comes up with a guideline for the disbursement. He however called for unity among NISA and SOAN members to benefit from the CVFF disbursement.
"The 50, 35, and 15 percentages are not sacrosanct. It is not like this is what it is. Until that committee comes up with a presentation to the Minister, then that is when it becomes a guideline. The discussion about not being able to meet up with the 15 percent is not what we should worry ourselves about now. I can say categorically that if we want 100 percent from NIMASA, we can get it because other sectors such as the oil and gas are getting 100 percent. NCDMB are getting 100 percent. We can use the same module and use the assets as collateral. We must drive it together with SOAN", Brown concluded.
shippingposition
Kindly like us on Facebook/twitter