The Federal Government has directed the Nigerian Institute of Transport Technology (NITT) Zaria, to step up training of road transport operators in the country.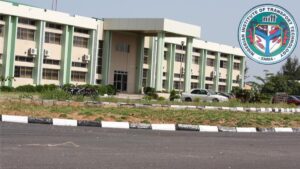 The Permanent Secretary, Federal Ministry of Transportation, Dr Magdalene Ajani, gave the directive in a statement by the ministry's Director of Press and Public Relations, Mr Eric Ojiekwe, in Abuja.
Ajani said that the training would check the excesses of the operators with a view to reducing carnage in the sector.
Ajani had led members of the House of Representatives and House Committee on Land Transport in the National Assembly on an assessment tour of NITT, Kano Outreach Centre, Dawakin Kudu.
Others with Ajani on the tour were Commissioners and Permanent Secretaries of Transportation Ministries in the 36 states of the Federation.
She expressed optimism that the institute would not only play its statutory role but utilise the facility on the ground, be self-sufficient and generate revenue for the agency.
The Director-General, NITT, Bayero Salih-Farah, said that the Kano Outreach Centre was one amongst others located in Gombe, Ebonyi, Lagos, Abuja, Katsina, Benue and Ekiti (nearing completion).
Salih-Farah said the centres provided skills, professional and technical training in the transport sector.
He directed a demonstration of the installed equipment at the centre.
"There is a simulation section for intending motor vehicle drivers, a welding segment, automotive spray booth, but most notable is a simulation provision for heavy-duty vehicles such as forklifts, articulated vehicles, tractors and other earth-moving vehicles.
"This has become necessary as this class of operators do not go through the necessary orientation before taking the wheels, hence putting lives and infrastructure of government at risk," he said.
The NITT boss enjoined State governments, transport companies, individuals or participants under government empowerment learning schemes to take advantage of the opportunities being offered.
Amos Magaji ( Zango Kataf/Jabba Federal Constituency) expressed delight at the out-of-the-box initiatives adopted by the director-general.
He promised the support of the House in whatever capacity possible.
Kindly like us on Facebook