The Florida Seaports Transportation and Economic Development Council (FSTED) has released its annual report and it states that Florida has lost $14 billion in trade in the year 2020. The report explained that most of the decline in port operations happened in the first half of 2020 due to pandemic-related uncertainties. It was highlighted that Florida suffered a decline of 16% in overall trade volume in the year 2020. The only silver lining for Florida were the three ports on the west coast, namely Port Tampa Bay, Port Manatee, and Port of Panama City who managed to pull a positive growth in container volume. There was also a growth of 8.8 percent in the Breakbulk cargo where the volume climbed to 7.8 million tons in 2020.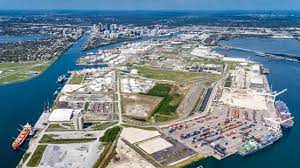 Talking about the report, Michael Rubin, CEO of Florida Ports Council said that they were expecting the pandemic to hit the cruise industry but seeing the impact on cargo was a rude awakening for them. He said that now business is recovering well and cargo volume numbers are good.
The Cruise industry was one of the hardest-hit businesses in the pandemic as cruise sailing came to a complete halt in 2020. Florida suffered hugely from this because the cruises are a big part of their port business. Florida has gotten into a legal battle with the US Centers for Disease Control prevention over the restrictions placed on the cruise industry and its financial implications for the State of Florida.
The report also looked on the positive part and stated that despite suffering a complete shutdown of more than 15 months, the fundamentals of the cruise industry were still strong. This remark must add to the hopes of Florida's Ports who have high expectations from the recently restarted cruise industry. Michael Rubin, FSTED Program Administrator said that most of the individual seaports have experienced a consistent decline for the year 2020, the 15 seaports of Florida were resilient and it is expected that they will make a complete recovery in 2021.
The current trends show that Florida's seaports are poised for a robust recovery in 2021. The governor has also announced that he is planning to devote $250 million from federal stimulus to the ports. Florida's Department of Transportation will be selecting the ports and projects for this federal aid.
Kindly like us on Facebook