The Customs Area Controller (CAC) of the Idiroko Command; Comptroller PC Kolo has lamented that due to prolong border closure at the Idiroko border, the border community has become hostile to the officers of the command lamenting that members of the community now vent their anger on the officers at the slightest provocation.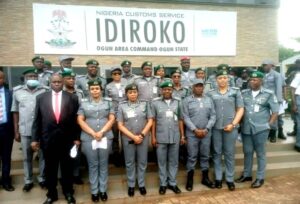 Kolo speaking on Monday when the Assistant Comptroller General of Customs (ACG) in charge of Zone 'A' Modupe Aremu visited the command, lamented that officers of the command have suffered several attacks at the slightest encounter.
He also noted that most residents of the border community have been out of job since the closure and as a result vent the anger on innocent officers who go about to carry out their lawful assignment.
The CAC lamented that there is not enough manpower at the border, stating that the staff strength of the command has dropped from 1026 before assuming office to 526 as at the time he assumed office.
He explained that out of the numbers about 68 of the officers have been assigned for special drill operation while calling for more man power in the command.
The CAC also lamented that five out of about 24 Hilux vehicles belonging to the command have already been burnt by frustrated community residents while urging the ACG to use her office to ensure that the command gets more operational vehicles.
Kolo also explained that as a result of low activities at the border, revenue collection has dropped while informing that the major source of revenue for the border command has been from auction of seized petroleum products.
He however said despite attacks on its officers, the command is not deterred in carrying out its duty while reiterating his resolve to keep suppressing smuggling and arresting perpetrator of the criminal activity.
He informed that since assuming office, he has visited 27 traditional rulers in the border community in other to ensure synergy between the community and the Customs towards putting an end to smuggling in the region.
Responding, ACG Modupe Aremu commended the CAC and other officers of the command while also informing that the Customs Comptroller General is committed to ensuring proper welfare of the officers.
She however lamented the constant attack on officers of the NCS by smugglers and some members of the community.
The ACG who mourned the recent killing of an officer of the Federal Operations Unit Zone 'A', informed that investigations have commenced.
Kindly like us on Facebook