The Vice-Chancellor, Federal University Oye-Ekiti (FUOYE) Prof. Abayomi Fasina has said that the university would soon commence programme in Transport Studies.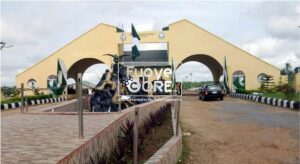 Fasina dropped the hint when he paid a courtesy visit to Mrs Elizabeth Akinlade, Sector Commander, Federal Road Safety Corps (FRSC) Ekiti Command in Ado-Ekiti.
The vice-chancellor said the university was ready to introduce transport studies programme on part-time basis.
He called for a Memorandum of Understanding (MoU) between the two institutions to achieve success in the programme.
"I am very happy to be here today. The reason we are here in your office is to seek for your support and also partner with you in terms of training, statistics and research," the VC said.
Fasina stated that it was necessary to sign a MoU to partner, when the programme eventually started.
The don commended the command for committing itself to the task of saving lives.
He recommended the deployment of more technology to track and punish traffic offenders.
"We need to motivate to innovate in traffic management. We need more digital technology like drones to prevent careless drivers and help manage traffic congestion," the vice-chancellor said.
Reacting, Mrs Akinlade thanked the professor and his team for the visit.
"You are welcome to the FRSC, Ekiti state Command; we really appreciate you for honouring us with your visit.
"We have a call centre at the National Headquarters through which we can actually see all parts of the country.
"We focus on any part of the country that interests us at a time, and can track traffic on all Nigerian roads from there; but it is not yet at the state level.
"Drone technology is being planned, but Ekiti has the lowest number of road accidents in the country.
"There should be no loss of lives even when accident happens; that is our goal.
"We are very open, we are one big family and we are here for each other.
"Certainly, I will reciprocate this visit; I want to thank you very much," she said.
The FRSC commandant assured the vice-chancellor of a robust partnership with the university.