OIL TANKER – A ship designed for the carriage of oil in bulk, her cargo space consisting of several or many tanks. Tankers load their cargo by gravity from the shore or by shore pumps and discharge using their own pumps.
OPEN RATES – Pricing systems that are flexible and not subject to conference approval. Usually applied to products in which tramps are substituted for liners.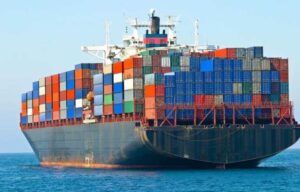 OPEN REGISTRY – A term also described as "flag of convenience" or "flag of necessity" to denote registry in a country which offers favourable tax, regulatory, and other incentives to ship owners from other nations.
OPERATOR – The holder of a freight contract with a cargo shipper.
ORE CARRIER – A large ship designed to be used for the carriage of ore. Because of the high density of ore, ore carriers have a relatively high centre of gravity to prevent them from rolling heavily at sea with possible stress to the hull.
ORE-BULK – OIL CARRIER – See OBO
ORE-OIL CARRIER – A ship designed to carry either ore or oil in bulk.
ORDINARY SEAMAN – A deck crewmember that is subordinate to the Able Bodied Seamen.
OVERTONNAGING – A situation where there are too many ships generally or in a particular trade for the level of available cargoes.
PALLET – A flat tray, generally made of wood but occasionally of steel, on which goods particularly those in boxes, cartons or bags, can be stacked. Its purpose is to facilitate the movement of such goods, mainly by the use of forklift trucks.
PANAMAX – A vessel designed to be just small enough to transit the Panama Canal
PASSENGER SHIP – A ship with accommodation which is authorized to carry more than twelve passengers.
PER CONTAINER RATE – Rates and/or changes on shipments transported in containers or trailers and rated on the basis of the category of the container or trailer.
PERSONAL FLOATATION DEVICE – Approved floats meant as life preservers and carried on board American ships.
P & I – Protection and indemnity insurance.
P & I Club – Protection and Indemnity Association, the carriers mutual liability assurer.
PILOT – A person who is qualified to assist the master of a ship to navigate when entering or leaving a port. In most ports pilotage is compulsory.
PILOTAGE – The act carried out by a pilot of assisting the master of a ship in navigation when entering or leaving a port. Sometimes used to define the fee payable for the services of a pilot.
PILOTAGE DUES – A fee payable by the owner or operator of a ship for the services of a pilot. This fee is normally based on the ship's tonnage.
PILOT HOUSE – The enclosed space on the navigating bridge from which a ship is controlled when under way.
POOLING – The sharing of cargo or the profit or loss from freight by member lines of a liner conference. Pooling arrangements do not exist in all conferences.
PAPC – Pan African Association for Port Co-operation
PMAWCA – Port Management Association of Western and Central Africa
PMAESA – Port Management Association of Eastern and Southern Africa
PORT SIDE – the left hand side of a ship facing the front or forward end. The port side of a ship during darkness is indicated by a red light. Was previously known as the larboard side but this created confusion with starboard and was changed.
POST-PANAMAX VESSEL – a ship that is too large, particularly in the width or beam for the Panama Canal (see Panamax)
PRODUCTS TANKER – A tanker designed to carry refined petroleum products in bulk.
PROPANE CARRIER – A ship designed to carry propane in liquid form. The propane is carried in tanks within the holds; it remains in liquid form by means of pressure and refrigeration. Such ships are also suitable for the carriage of butane.
PSV (Platform Supply Vessel) – Carries supplies to drilling units or installations during field development or production.
PUMPMAN – A rating that tends to the pumps of an oil tanker.
PURSER – A ship's officer who is in charge of accounts, especially on a passenger ship. Nowadays referred to as the Hotel Manager of most cruise ships.