Cashews are native to Brazil, but they are now grown in many different parts of the world. They have several health benefits for  men and women. They can help to reduce the risk of heart disease, stroke, and cancer.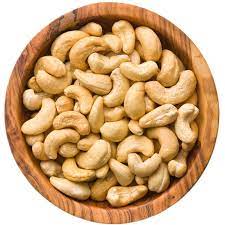 Cashews are a good source of vitamins, minerals, and antioxidants. They are low-fat food and are cholesterol-free. One ounce (28 grams) of cashews contains about 157 calories.
Hanging from the branches are large juicy apples at the bottom of which are attached to the cashew nut. Made available round the year, the nut has a great shelf life if stored properly. The nut and the fruit, both have multiple uses.
The nut, often known as the poor man's plantation although now it is sold for steep prices is used to make delectable and rich curries and also roasted and eaten dry.
Contrary to the popular belief that it can make you gain fat, a considerable amount of cashews in your diet can provide you with many health benefits:
Some Vitamins and minerals found in cashews are:
Iron
Vitamin B complex
Calcium
Vitamin C
Magnesium
Vitamin E
Vitamin A (Beta-carotene)
Vitamin K1
Copper
Zinc
Cashews are a delicious and nutritious snack, but did you know that they offer specific benefits for female health Here are ten cashew benefits that every woman should know about:
1. Improve Heart Health:
According to research, women have a higher risk of dying from heart disease than males. So, they should be extra careful about taking a heart-healthy diet.
Cashews can improve your cardiovascular health. The magnesium in cashews helps to relax blood vessels and reduce the risk of hypertension, or high blood pressure. This, in turn, can reduce your risk of heart disease.
2. Improves fetal growth:
Cashews are abundantly packed with all the essential vitamins and minerals that are associated with the optimum growth of the fetus during pregnancy.
Cashews are enriched with omega-3 fatty acids. These fatty acids are found to be very important for the growth of the fetus during pregnancy. It is known to be the building block for the development of the fetal brain and retina
These fatty acids are also considered an essential element in determining the gestation time and preventing pre-term labor. Evidence is also present relating perinatal depression to the concentration of omega-3 in the body.
3. Enhance Mood:
Cashews are a good source of tryptophan, an amino acid that the body uses to produce serotonin. Serotonin is a neurotransmitter that plays a role in mood regulation.
Eating cashews can help to enhance your mood and reduce anxiety and depression. Moreover, they can be beneficial in relieving mood swings caused due to hormonal imbalances or premenstrual syndrome in females.
Cashews are also found to be essential for avoiding depression associated with the lack of certain vitamins and minerals including vitamin B and folate.
4. Support Bone Health:
Women are the main victims of bone diseases like osteoporosis and arthritis. Cashews are a good source of calcium and copper, which are essential for bone health.
While calcium is necessary for healthy bone health, copper helps to maintain bone density and prevent osteoporosis. In addition, the magnesium in cashews can help to reduce the risk of fractures.
This is an important effect in preventing bone weakness and related disorders in women during childbearing and post-menopausal age.
5. Regulate Blood Sugar in pregnancy:
According to data from 2019, the rate of prediabetes and diabetes has risen steadily in Pakistan. It means you might be at risk of developing diabetes especially if you are overweight or obese.
The nutrients in cashews can help to regulate blood sugar levels. The healthy fats and proteins in cashews slow down the absorption of sugar into the bloodstream, preventing spikes in blood sugar levels.
Cashews have a low glycemic index which makes them a healthy choice for pregnancy as the chances of worsening gestational diabetes are lower.
consult a gynecologist for better advice.
6. Reduce Inflammation:
Cashews are a good source of zinc, which is an important mineral for reducing inflammation. Zinc helps to reduce the production of inflammatory cytokines and can help to treat conditions like arthritis.
Increased inflammation is found to be related to abnormal brain development and increased chances of mental illnesses in children during pregnancy.
Also, read about the benefits of eating dragon fruit during pregnancy.
7. Boost Immune Function:
The copper and zinc in cashews help to boost immune function. These minerals are essential for the production of white blood cells, which help to fight infection. Zinc also imparts the antioxidant effect to help boost the working of the immune system.
During pregnancy, many parts of the immune system are suppressed while the functions of others are enhanced. The immune system works to protect both the mother and the child due to which cashews are needed to enhance its efficiency.
10. Support Weight Loss:
Obesity in women is found to be associated with hormonal imbalance resulting in infertility or reproductive disorders like PCOS (polycystic ovarian syndrome).
Cashews are a good source of protein and healthy fats, both of which are important for weight loss. The proteins in cashews help to boost metabolism and the healthy fats help to promote satiety.
Including cashews in your diet can help you to reach your weight loss goals as the fiber content in them imparts a feeling of fullness to the body thus preventing weight gain.
11. Cashew Benefits for Hair:
Cashews can improve your hair health. The zinc in cashews helps to promote hair growth and the copper helps to prevent hair loss. In addition, the selenium in cashews can help to reduce dandruff.
*Concluded
shippingposition
Kindly like us on Facebook/twitter