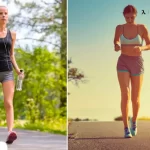 On the other hand, if you've got a lot of time to spend on a leisurely workout, try walking. One 2014 study published in the journal Arteriosclerosis, Thrombosis, and Vascular Biology found that brisk walking can be nearly as effective as running in lowering rates of hypertension, diabetes, and high cholesterol. The key is to maintain a pace that keeps your heart rate elevated and to cover the same distance as your running route—which, admittedly, could take a while.
·         Exercise can improve your chronic pain.
If you suffer from chronic pain, working out is probably the last thing you want to do. But a 2017 report in the Cochrane Database of Systematic Reviews examined 264 studies with nearly 20,000 participants, and found that overall, exercise was beneficial for chronic pain. In particular, the review suggested that exercise could lower pain severity and improve function, particularly when exercise plans were monitored by a physician.
·         Meditating is better for your mental health than a vacation.
Run out of vacation days? Harvard Health explains that meditating is just as restorative as a week-long getaway. In 2018, researchers out of the Netherlands studied 91 female volunteers and divided them into three groups: those who were regular meditators, those who had never meditated, and those who would forgo meditation entirely in favor of a week-long vacation.
The first two groups committed to 12 hours of mindfulness training over the course of a regular workweek, while the latter group of "vacation participants" engaged in health lectures and outdoor activities. While all three groups reported similar benefits of lowered stress and improved mood, the participants that continued meditating showed positive results 10 months later, while the vacationers returned to their normal states after their trips ended.
·         If you're over 30, you're already losing up to 40 percent of your muscle mass.
Over 30 and still feel like you're in your prime? Your muscles may beg to differ. One 2013 study published in Muscles, Ligaments, and Tendons Journal found that after 30, participants saw a muscle decrease between 16.6 and 40 percent. And that muscular degeneration increased even more rapidly after 40.
The takeaway? No matter how incredible you feel, you'll want to ramp up your strength training and protein intake in your 30s to help compensate for the strength you would otherwise lose with age.
·         Heart disease is more deadly than all types of cancer combined.
Cancer strikes fear into the hearts of many, but according to Dr. Nicole Weinberg, cardiologist at Providence Saint John's Health Center in Santa Monica, California, our hearts themselves pose a bigger threat. Cardiovascular disease causes more deaths than all types of cancer combined, accounting for one in every four deaths in America and every one in three among women.
But the good news is that we know more about preventing heart disease than we do about preventing cancer, and eating well and working out can get you on the right track. Weinberg warns that this is only half the battle, and you should also see a doctor to assess how your particular genetic markers may affect your cholesterol levels.
·         Staying fit over time can make you 60 percent less likely to die early.
A 2012 study in the journal ISRN Cardiology tracked the link between physical fitness and mortality, and found that men who were consistently categorized as "fit" throughout their adult years had a reduced mortality of 60 percent. If you're already in great shape, that should help motivate you to keep up the good work!
·         Your poor sleep habits can make you gain weight.
Like eating well, staying hydrated, and keeping active, getting a good night's sleep should be at the top of your fitness checklist. A 2010 study published in the journal Environmental Health Perspectives found that not getting enough sleep, or maintaining an abnormal sleep schedule, is considered an independent risk factor for weight gain. This contributes to a cycle in which poor sleep practices lead to weight gain, which increases the likelihood of sleep apnea or other sleep disturbances, which, in turn, contributes to more weight gain.
·         Standing up more often can save your life.
According to Harvard Health, more than half of the average person's day is spent sitting, whether in front of a computer at work, in front of the TV at home, or with a meal at the table. Unfortunately this trend is hazardous to our health, contributing to increased risk of type 2 diabetes, cancer, and obesity, which in turn ups your chances of heart disease and stroke. However, there's good news, too: A 2011 study in the Journal of Women's Health showed that walking for just 30 minutes per day can help reverse some of these issues.
·         Sweating does not help you lose fat.
If you've been going on runs wearing sweat suits or garbage bags, it's time to change your routine. Beyond the risks associated with intentionally raising your temperature while exercising, extreme sweating does very little to help you lose fat. As you exercise, your metabolic system oxidizes triglycerides into usable energy for your muscles, shrinking (though not getting rid of) your fat cells in the process. The 16 percent of weight that is lost through urine and sweat is quickly replenished as soon as you rehydrate.
·         Staying hydrated boosts your metabolism.
Need more of a reason to drink your recommended eight glasses of water a day? Several studies, including this 2016 report in the journal Frontiers in Nutrition, have concluded that staying adequately hydrated helps people lose weight, both by curbing appetite and increased lipolysis, or the breakdown of fats. Go ahead and top off your glass!