Lloyd's List has commenced publishing its inaugural list of maritime personalities whom they consider as 'Dishonourable' on account of actions that they took in the outgoing year 2022.
Lloyd's List is one of the world's oldest continuously running journals, is drawing up a list of 100 persons, "who have brought international shipping into disrepute in 2022 through their actions".
Apparently still compiling the list, but Nigeria's Chief of Naval Staff; Vice-Admiral Awwal Zubairu Gambo already occupies number three position on the list.
Apart from the Naval Chief, the emerging list is topped by Peter Hebblethwaite, the chief executive of P&O Ferries. It also has the Registrar of International Registration Bureau, Togo; Mr Vera N. Medawar Zervos, among others.
In justifying its naming of Nigeria's Vice-Admiral Awwal Zubairu Gambo as dishonourable, the Lloyds List frowns as his role as the naval chief and submitted that: "The Heroic Idun case is being painted as a matter of oil theft by the Nigerian Navy. There are of course complexities in this case, but it does not matter to the 26 being held in Nigeria on their vessel under armed guard on national anti-piracy charges. They just want to be released after more than five months of being trapped in a Kafka-esque legal drama involving the governments of Equatorial Guinea and Nigeria, amid claims they were illegally attempting to load crude at the offshore Akpo terminal without permission".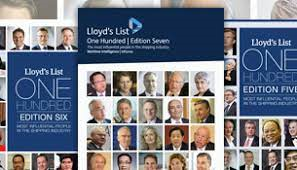 According to the maritime journal, "despite international condemnation and the very clear evidence before him, Vice-Admiral Gambo insists on using the VLCC, which was chartered by oil major BP, to further his own piracy-fighting, anti-oil theft agenda".
It however admitted that, the Heroic Idun's case is complex, adding that, "but essentially, the charterer BP has confirmed the vessel had clearance and, while the tanker was waiting to load, mistakenly identified the Nigerian Navy as pirates and moved to international waters".
According to the magazine, "these facts do not seem to have persuaded Mr Gambo".
Again justifying its namimg of Nigeria's naval chief as one its dishonourable personalities, the Lloyds List argues that: "To use Heroic Idun as part of a domestic political agenda, while simultaneously holding 26 innocent men in custody, is wrong and deserving of a "dishonourable mention" in our inaugural list".
Mr Peter Hebblethwaite of P&O Ferries
On Mr Peter Hebblethwaite of P&O Ferries, the journal stated that: "The P&O Ferries chief executive managed to trash the 178-year-old ferry operator's reputation in one day by exploiting regulatory gaps in the UK's industrial relations laws to sack 800 seafarers on the spot — some via Zoom — in February 2022.
Seafarers on the ferries had their belongings placed in bin bags and dumped on docks, with lower-paid agency staff moving in moments after employees were told their jobs had gone.
The head of the DP World-owned company not only admitted to the deliberate breach of multiple elements of UK law but doubled-down on the headline-grabbing sackings, telling a UK parliamentary hearing into the matter that he had no regrets and would do it all over again.
Along with DP World chief operating officer Jesper Kristensen — who dialled into the joint select transport committee to give evidence from Dubai — the pair provoked gasps of astonishment from members of parliament as they justified the sackings.
The company was on the brink of insolvency, and Mr Hebblethwaite maintained it needed a "new operating model" that involved the carefully crafted yet brutal lawbreaking strategy, using lax labour laws to rid themselves of higher-paid UK staff and replace them with cheaper seafarers without penalty.
A former pub manager, Peter Douglas Gerald Hebblethwaite was born in March 1971 and is paid an annual salary of £324,000 ($389,000), after starting at P&O Ferries in late 2018 as manager of overnight operations.
He is also a director at privately held P&O Ferries Division Holdings Ltd, which reported a £1.9m loss in 2019 — the last full year for which accounts are available.
Mr Hebblethwaite's performance left many in UK shipping queasy about their relationship with DP World, a significant investor and owner of container ports, while the executive remains tone deaf to any fallout.
He continues to speak at global industry events, including a Shipfax ferry conference just months after the sackings. However, he was removed from the speakers' line-up at an Interferry event, to be held in Seattle in October 2022, after union protests".
Others listed by the magazine are:
Kwek Kee Seng, Swanseas Port Services
Singapore-born Kwek Kee Seng appeared in 2022 on the FBI's 'most wanted' list for money laundering and providing services to North Korea. He has a $5m price on his head, but his whereabouts in Singapore are unknown.
The fugitive businessman is accused of facilitating and directing numerous petroleum oil shipments to North Korea, via ship-to-ship transfers as far back as 2019 involving his 3,912 dwt product tanker Courageous (IMO: 8617524), in breach of United Nations and US sanctions, as well as numerous US money-laundering and economic acts.
Vera N. Medawar Zervos, International Registration Bureau, Togo flag registrar
According to Lloyd , "There are many issues lurking in shipping's regulatory crevices that undermine international trade, but Togo's shipping register has managed to embody a worrying amount of them.
The Greece-based International Registration Bureau has had the contract to register international ships to fly the Togolese flags since 2017, but has presided over repeated and embarrassing violations, including flagging rogue vessels engaged in North Korean trades, and vessels involved in drug trafficking around the world.
As a result, Togo has the dubious distinction of being the only flag placed on the bottom of the list by the Paris Memorandum of Understanding, the Tokyo MoU and US Coast Guard.
Such are the concerns that the US State Department has repeatedly tried to help the Togolese government to clean up its act, which saw the relevant minister at one stage send the IRB a letter giving six months' notice of its contract cancellation.
The International Maritime Organization is dealing with a rise in fraudulent and fake flags that are frequently found in tandem with forged documents, fraudulent classification societies and marine insurers, along with a worrying lack of oversight in safety.
At least five of the Togo-flagged tankers are elderly, poorly maintained ships engaged in subterfuge trades in US-sanctioned Iranian and Venezuelan oil, with questionable certificates.
Togo flags 545 vessels, including 95 of 5,000 dwt and over, with an average fleet age of 38 years.
The bright light shone on Ms Medawar and her ilk via a dishonourable mention is long overdue.
Togo must demand better and remember that safety and accountability must be considered alongside the profits that can be gained from running an international registry under contract".
shippingposition
Kindly like us on Facebook/twitter