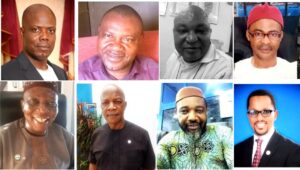 Bisiriyu Lasisi Fanu (ANLCA Chairman, Seme Chapter)
The simple thing is that the Head of Customs should call his people together and probably give them training on how to handle human beings. The people they are dealing with are human beings and not animals, irrespective of the circumstances that might come along with it. You cannot be killing human beings as if you are killing cows or dogs. There should be a way, the management of Customs should organize workshop or training for their officers and charge their various leaders on whatever happens.
Stanley Ezenga (P.R.O NAGAFF)
The Customs officers who are supposed to man the borders are supposed to be trained officers. The various arms of Customs which include Surveillance and FOU, should position themselves at the entry points. Not after the smuggled goods must have passed they now begin to pursue the goods.
They should position themselves strategically at the point of entry so that they can do all necessary checks to ensure that the goods conform to the laid down import regulations before allowing them in. If they can do these, the case of accidental discharge or killings will not arise.
Festus Ukwu (Secretary-General NCMDLCA)
The issue of shootings and killings by Customs is based on the fact that there was external interference when the Customs are trying to stop smugglers. Smugglers are not supposed to operate boldly because there are laws and that is why Customs are there. They are also part of the security systems in the country.
I believe it is the recalcitrant behaviour of the smugglers that cause these killings. It is because they attack Customs officers during the course of being stopped from smuggling. We have to say the truth. I am not in support of the killing of innocent lives, but Customs must also do their jobs. There is a lot of aggression from smugglers, especially when their goods are endangered.
Chief Osita Chukwu (National Coordinator, SNFFIEC)
The Customs officers are expected to deal carefully with the ammunition placed in their hands. You cannot say somebody is a smuggler without evidence. There is no law that permits Customs to kill except someone is coming to you with arms. The law only states that Customs should apprehend smugglers and not kill them, except in the process the smuggler tries to attack the officers.
Babatunde Mukaila (National Secretary, ANLCA)
There are cutting edge technologies that can help Nigeria Customs Service (NCS) in line with World Customs Organization (WCO) to Police our borders without confrontations with smugglers.
Simeon Nwonu (Freight Forwarder)
The peculiarity of border stations is something that gives worry to everybody. Because of the nature of the border stations, it becomes difficult to ensure efficient Customs operations and the situation is worsened by corruption. If you move from Idiroko to Otta, you will see about 17 to 20 Customs formations on the road at different locations and each of them is collecting something from the smugglers.
We all know what should be done, but we don't do it. But because of the corrupt character in the Nigerian system, we do not have any solution that will proffer and bring sanity into the border stations.
Eugene Nweke (Freight Forwarder)
The most effective way for the Customs to man the International frontiers is detailed in the World Customs Organization S.M.A.R.T. Borders Concept. The World Customs Organization encourages National Customs to embrace an ICT-based operational administration, thereby making their national borders thrive on the basis of secured border, measurable operational activities, accessible trade data & information, risks management and technologically driven.
This concept reduces unnecessary checkpoints and human contacts. Goods and services are monitored via the Smart Borders Concept, and Customs tracking and monitoring capacity aids in prompt intervention onto curtailing unwholesome trade and services.
Segun Musa (Freight Forwarder)
The border is sensitive. For customs to achieve set goals, there's a need for them to have a structure in place like an advocacy group to guide and assist Customs on vital information. Not only regarding smuggling but also in the sense that when things are happening, they will have firsthand information. There is the need for Customs to have holistic interaction with the community members within that confine and their jobs will be half done.
Also, Customs using arms should be the last option. The way they flaunt arms within the border is uncalled for, that is why we hear of accidental discharge. It behooves on Customs to think more on how to have an engagement with the community that will facilitate not only trade but also cordiality.
Kindly like us on Facebook