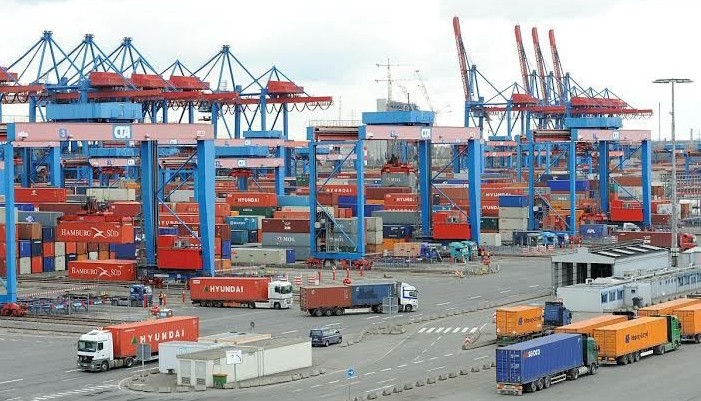 Findings by Shipping Position Daily newspaper have revealed a significant decline in import activities at the nation's seaports, amounting to about 65% drop in recent weeks, attributed to the ongoing instability of foreign exchange rates and the systemic devaluation of the Naira
Recall that in a recent report, the Tin-Can Island Command of the Nigeria Customs Service (NCS) highlighted the challenges posed by reduced cargo throughput at the seaports, making it increasingly difficult to achieve revenue targets.
This decline coincides with a steady rise in the rates which had soared to an exchange rate of about N1,200 to one US dollar in the black market compared to the Nigeria Foreign Exchange Market (NAFEM) official rate of N848 per dollar.
Checks by our correspondent revealed that the Naira's consistent weakening against the US dollar has been a prevailing trend since the Central Bank of Nigeria (CBN) lifted the ban on 43 previously restricted items from accessing foreign exchange (forex) through the investors and exporter's (I&E) window, now known as NAFEM.
Insiders within the nation's maritime industry have informed our correspondent that the berths in Apapa and Tin-Can Island ports are alarmingly becoming vacant, especially in terminals handling bulk cargoes. This has taken a toll on truckers who are grappling with a sharp reduction in cargo haulage, significantly impacting operations at the ports.
In a chat with our correspondent, a truck owner; Yusuf Liadi expressed his concerns, stating that cargo haulage has plummeted to its lowest point in the last month, reflecting the adverse effects of exchange rate volatility.
In an exclusive conversation with our correspondent, Dr. Kayode Farinto, the former acting president of the Association of Nigerian Licensed Customs Agents (ANLCA), disclosed that importation has diminished by about 65%. He emphasized that this decline is a direct consequence of the fluctuating exchange rates.
Farinto believes that the removal of restrictions on 43 items by the Central Bank of Nigeria (CBN) is a positive development that will stimulate import activities. However, he predicted that the full impact of this policy change may not be realized until December 2023 or the first quarter of 2024.
Also confirming the drop in importation, the founder of the National Association of Government Approved Freight Forwarders (NAGAFF); Dr Boniface Aniebonam in a chat with our correspondent said: "Do you need somebody to tell you that import has dropped? When the dollar is at N1,200".
"So those who were importing up to three or four containers before, when the dollar was maybe N400 now bring in one and those who are importing one now are gathering themselves together to bring in one in a group. Do you need somebody to tell you that, we all know cargo importation has dropped" he confirmed.