The tenure of the incumbent Secretary General of the International Maritime Organisation (IMO); Mr Kitaack Lim will end in January 2024. Ahead of this, the IMO Council has rolled out guidelines for appointing his successor.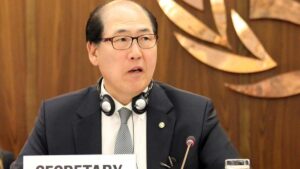 A statement issued by the IMO and made available Shipping Position Daily, confirmed that, the IMO Council has approved the procedures, and fixed election of a new Secretary-General for July 2023, during the session of the Council.
"Applications from candidates for the position of Secretary-General will be invited to reach IMO by 31 March 2023 at the latest", the statement added.
The statement added that, "following the election in July 2023, the decision of the Council will be submitted to the 33rd session of the Assembly of IMO in late 2023, and the elected Secretary-General will take office on January 1st, 2024".
Mr Kitack Lim was elected Secretary-General of the Organization by the 114th session of the IMO Council in June 2015 for a four-year period beginning 1 January 2016. The election was endorsed by the IMO's Assembly at its 29th session in November 2015.
At its 31st session (November-December 2019), the Assembly approved the renewal of Mr. Kitack Lim's appointment as Secretary-General of IMO, for a second and final term of four years.
Mr. Kitack Lim, from South Korea is the eighth elected Secretary-General of the International Maritime Organization.
shippingposition
Kindly like us on Facebook/twitter