Apapa clearing agents are different, they are well-educated, they know their jobs
He was difficult to pull out to grant this exclusive interview. But, Shipping Position Daily was able to persuade the Customs Area Controller in charge of Apapa Command; Comptroller Yusuf Mallanta to bend a bit. Here, he speaks on his experience at the apex command of the Nigeria Customs Service, relationship with sister agencies, revenue generation, as well as sundry issues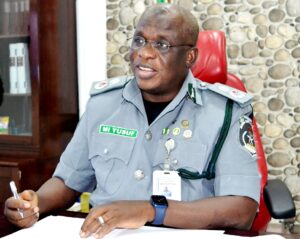 It's been a while since you came into Apapa as the controller. How do you feel?
I feel fulfilled as a Customs officer or any other organization or service, you will want to reach the peak of your career and I thank God for giving me the opportunity to see the peak of my career as a Comptroller and also to work in one of the biggest ports in Nigeria. It is an opportunity given to me and I pray to God for success.
You once served in Apapa and then redeployed. You are now back in Apapa. What has changed between then and now?
Yes, I once served in Apapa, but in a different category. I left Apapa then I went to Adamawa and Taraba. Then I came back to FCT and spent some time. I was deployed and implemented some projects all over the country. Then I moved to the Pre Arrival Assessment Report (PAAR) Seat where I also spent some time and now today, God is His ultimate mercy has brought me here. Definitely, you will find out that even if it is your bedroom, when you leave it sometime and you come back, you will see some dust and some things to attend to. Moreover, when I was in Apapa, I was working at a different schedule. Now I have been faced with a bigger schedule. So definitely there is going to be a lot of difference and I am trying to make sure that those differences have been amended and the challenges have been conquered.
Since you came in here, there have been an avalanche of seizures and increase in revenue. How did you achieve that?
One of the most important thing is that when you come to a place, you look at the structure. When you look at the structure, as a seasoned officer you need to find out what is wrong with the structure, where do we need an amendment in the structure, where are the revenue leakages, where are the non-compliances? We try to make sure that the non-compliance level has been reduced drastically through anti-smuggling suppression and the compliance level has been increased through revenue generation and facilitation of honest and transparent trade. The facilitation of honest and transparent trade; to some extent makes for cargo flow in the supply chain. The more the cargo flows in the supply chain, the more revenue comes in, because the more revenue comes out, the more declaration we make, and now the more revenue we realize. Massive monitoring with intelligence sharing as well as forensic manifest management system gives us the liberty to ensure that unwanted cargoes are monitored and seized outrightly. For those that have infractions, we collect the revenue and also enforce a penalty of 25 percent to serve as a deterrent for the would-be importer, so that he will not try it. That is why you see increase in the revenue generated. The technique there is monitoring trade facilitation, precision, and control.
What is the revenue target for the Command for 2021 and how far have you gone?
For 2021, the revenue target given to the command is N607,176,76,00. That is the revenue target for the command given by the Senate as at 2021. So far so good, we have realized a revenue of N449,818,000,00 with some factions that I cannot really recollect here. When you look at it, we have already achieved about 70 percent of our revenue target. We are getting towards the 'ember' months and we are tightening our belts to make sure that we achieve and overstretch our target. I am sure by the grace of God Apapa, is going to surpass its target at the end of the year.
You must have been confronting some challenges here, what are those challenges?
There is no work that has no challenges and mine is not an exception. One of the challenges I have is to make sure that people comply with the extant guide for trade and import procedures and ensure that they make honest and transparent declaration so as to facilitate trade. I always tell people that if they make honest and transparent declaration, you will be sure that you can predict your trade and the time your container will come out of the port, no matter the hitches. But when you don't make honest declaration, you may cut the value of your consignment, change the rate of duty through the HS Code or reduce the quantity. All these will make a barrier from one level of control to another level of control and that will cost you more in terms of revenue and cost of doing business through terminal and shipping company demurrage and at the end when you are caught, you will now pay a penalty of 25 percent. It is just penny wise, pen foolish.
Everyone who has to do business in Apapa complain about traffic. As a revenue collecting command, it must have an effect on your revenue.
Traffic is a challenge, because Apapa command and Apapa in its entirety has only one route. It is the only route that allows more than 1000 containers to come into the port on a daily basis. These could be empty containers and export containers. I am not talking only about the Apapa port. We have the Tin Can, PTML, Grimaldi. All these are following the same way. So you can imagine if there are other routes, the flow of traffic will be better. Thank God with the innovation and leveraging on technology, the NPA was able to deploy the use of Call-up system of trucks, which I know is going well even though there are one or two teething problems in the system. With patience, I think that can ease-off the traffic issue. At the same time, the issue of the standard gauge rail line being constructed in Apapa port, and the use of barges to carry containers through waterways are areas I think if well-leveraged will ease off the issue of traffic in Apapa and its environs.
Let's come back to your relationship with sister agencies in the port; particularly the Standard Organization of Nigeria and NAFDAC.
We have a sound relationship with the SON, NAFDAC, and others. I want you to understand that today, Customs is automated. Agencies like SON and NAFDAC have the login structure of the Nigeria Customs Service. So their documents must go through the system and it is only when the documents are issued before the PAAR will be issued to the importer. So all they need to do is to log in to our system, find out if they have any risky importation. They will now look at it through the system, monitor the importer to his premises or to the port. We have a synergy. Sometimes they send alerts. We invite them for joint examinations and we do the examinations together. After doing the examination together, if an infraction is found, we seize the container. If there is no infraction, we allow the process to go on. We have a very cordial relationship. Not only with SON and NAFDAC, but with other agencies like NESRA, NDLEA, DSS, and others. We work hand-in-hand and we share intelligence within ourselves.
You were reported recently to have threatened to deal with some bonded terminals. What were their offenses?
For a bonded terminal to be approved for opening, you must have the required logistics and equipment like the crane and forklifts. We found out that some of these logistics are not there. Cargo will get into the bonded terminal and when it gets there you will not see a crane to bring it down. Even if it is dropped down from the container, it becomes a challenge to get a forklift to bring it out for physical examination. It is not that we are saying we want to deal with the bonded terminal, we are only saying that bonded terminals should try and equip themselves within the reasonable time we have given them or else we will stop the cargo from going to that place. We will not allow discharge or transfer of cargo to that particular terminal that does not have enough equipment or a very good office facility for Customs officers to perform their duties diligently.
How much time did you give them?
I gave them about two weeks and I assure you that already some of them have brought their equipment. Not only bringing their equipment, but we also told our intelligence unit to monitor and ensure that those equipment belongs to them. Not that they borrowed or hired them to showcase and then take them back. People have been deployed there to monitor the equipment from now till the end of the year. If anybody removes any equipment from there, we will make sure that we look at it and serve it with the right punishment.
How do you relate with clearing agents with their penchant for negativity and bending the rules?
Apapa agents are different agents. They are well educated, they know their jobs and they try to advise and sensitize their importers. Some of the agents can never at any time get a job from an importer if he is not sure of that importer. We have periodic meetings with freight forwarders all the time, at the end of every month. We discuss our problems and proffer solutions. We ask them where we are wrong and where we need to make amends in the course of our work. We have a very sound understanding. Since my tenure in this area command, there has never been a time where I had any challenge with the Apapa freight forwarders. I thank them for their cooperation, synergy, and industrial harmony within the command.
Kindly like us on Facebook