The new Gulf Port of Haifa in Israel is scheduled to start business on September 1, sparking a new rivalry among Israel's ports.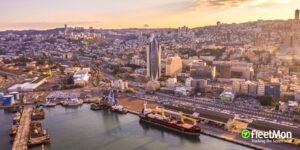 The new port, one of Israel's major infrastructure projects, was completed over a 15-year period with a NIS 5 billion government investment. The port is constructed completely offshore, with docks 800 meters long, 17.3 meters below sea level, and linked to the coast of Haifa.
The Gulf port's opening will alter the entire economy. It is the world's newest port, equipped with cutting-edge port equipment, according to Yitzhak Blumenthal, CEO of the Israel Ports Company. "This will have a profound effect on everyone, from manufacturers to the average Israeli. This would result in a decrease in the cost of living, as practically all products, including raw materials required by Israeli industry, pass through seaports."
The new port is built adjacent to Israel's existing Haifa port, which has served the country even before its inception and is currently the country's largest port. It is being constructed by two Israeli firms: Shapir Engineering and Ashtrom and will be administered for the next 25 years by China's Shanghai International Port Group, one of the world's biggest shipping managers.
The new Gulf Port will be Israel's most advanced, and the only one capable of rapidly unloading huge ships as long as 400 meters and 62 meters broad carrying up to 18,000 containers.
Another new port, at Ashdod, is also expected to be finished later this year as part of a 2005 port reform.
Israel's seaports handle more than 99% of the country's trade, according to Israel Ports Company. The new ports will encourage competition, cut consumer prices, and transform the entire economy, the statement continued.
The inauguration coincides at a time when shipping ports worldwide are experiencing congestion. Israel's ports have also been suffocatingly congested. Along with the global delays associated with the remodeling projects, the docks are unable to hire enough staff to fulfill the burden due to a labor dispute between the Histadrut labor union and the ports.
Additionally, the new port will serve as a significant growth engine for the country's northern region, particularly Haifa. The port's operations will employ thousands of people and provide approximately NIS 1.5 billion to the local economy, according to the Israel Ports Company.
Kindly like us on Facebook