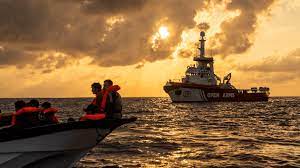 Italian authorities have impounded the NGO rescue vessel Open Arms at the port of Carrara for making three back-to-back rescues, a violation of national regulations. It is the second time that the vessel has been impounded for the same offense.
In January, the Italian Parliament passed a controversial migration law sponsored by the government of Prime Minister Giorgia Meloni. The law requires good Samaritan rescue vessels to head to port immediately after a rescue, foregoing additional rescues even if they are in the immediate vicinity of people in distress. The authorities can also designate distant points of disembarkation, requiring the rescue vessel to transit several days to a port in northern Italy after each rescue. The captains and NGOs are liable for fines of up to $50,000 and vessel impoundment for violations.
Italian authorities have applied the new rules with regularity, and some vessels have been detained more than once. Open Arms' rescue tug is one of them. In August, it was subject to a 20-day detention and a $10,000 fine for virtually the same offense: rescuing three boats and a total of 195 people, then delivering them to Carrara. On September 27, shortly after its first detention was lifted, the vessel returned to the Central Mediterranean and repeated the same operational pattern. Open Arms conducted and publicized three more back-to-back rescues, and its vessel was detained again on return to Carrara.
"It is the legal and moral obligation of the captain of any ship to provide assistance to shipwrecked persons in distress. Failure to render assistance is a serious offence punishable by law," Open Arms said. In a fundraising appeal, the group suggested that "if saving lives is a crime, there is no better time for you to join our gang."
The detentions have not slowed the pace of migrant arrivals. Small craft departing Tunisia and Libya are arriving on the Italian island of Lampedusa in waves, sometimes up to 120 per day, delivering thousands of maritime migrants in rapid succession. As of mid-September, the cumulative total of migrant landings came to about 130,000 people, according to Italy's ministry of the interior – roughly double the rate seen last year.
Economic and political factors are driving the migration pattern, and the asylum-seekers come from countries throughout North Africa and the Middle East. Tunisia has recently eclipsed Libya as the primary transit state, and it is geographically far closer to Lampedusa, reducing the difficulty of the voyage for small craft.