The Lagos State Ferry Services (Lagferry) has ferried over 500,000 passengers in the last 296
days of operations on Lagos waterways this year.
The Managing Director of Lagferry, Mr Abdoulbaq Balogun disclosed this in an interview on
Thursday in Lagos.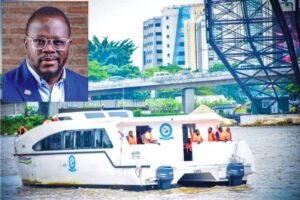 Balogun said that the potential of waterways has not been fully explored in the state to
decongest gridlock on roads.
According to him, while the state government has opened up the waterways, there is need for
massive investments from private companies to utilise potentials in the waterways.
"To address the challenges of traffic gridlocks on our roads, we are taking advantage of the
waterways because as a megacity, 20 million plus population cannot rely on a single mode of
transportation.
"Lagos has one third of the land mass covered by water so we have to make use of the abundance of
the water as a means of transportation.
"So far in the last 296 days of operations, Lagferry has moved 500,000 people on the Lagos
waterways.
"We used 12 boats to achieve that and now the governor has added seven other boats making 20.
"This is excluding other private operators or local boat operators,'' he told NAN.
The managing director, who commended Gov. Babajide Sanwo-Olu's attention on water transportation,
said that many people now preferred to travel by water in the state.
"So far, water transportation is taking shape as the present administration has given a new
freestyle to happenings in the waterways.
"The potentials of the waterways in terms of transportation, leisure and tourism are now being
exploited.
"Lagferry as an agency is being strengthened to ensure that we enable commerce and promote
tourism in Lagos.''
For the first time in a long while, either at the federal or sub-national level, he said that
Lagferry now has a fleet of 20 boats, which no state in the country has ever had at a go.
According to him, with the feat, the government is trying to attract private investments into the
sector as the government could not do it alone.
"As of now, with waterways transportation, we are still scratching the surface.
"We need a minimum of 300 boats to be on the waterways on daily basis and now.
"We have less than hundred now and some of them are not up to standard expected on a corporate
level,'' Balogun added.
He assured that Lagferry would double the capacity of its commuters for a ridership in the next
couple of months.
The managing director, therefore, appealed to Lagos commuters to key into the opportunities
available in the waterways as an alternative means of transportation.
He also advised Nigerian investors to key into the sector as "it is a huge source of generating
revenue globally''.
According to him, the state government has created an enabling environment for businesses in
water transportation to thrive.
He assured that the water transportation was safe adding that Lagferry has never recorded any
accident on the waterways since it started operations.
"We ensure that we do not carry overload and the most important of all is that the standard life
jackets must be worn before going on the waterways.''