The Managing Director of the Lagos State Waterways Authority (LASWA), Mr Damilola Emmanuel said the agency is working towards the commencement of the first Inland Waterways Command and Control Centre in West Africa.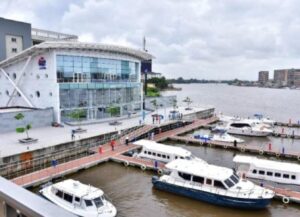 Emmanuel, while speaking during a media briefing in Lagos last weekend, said the Command and Control Center which is expected to be ready early next year will monitor operational activities within the state waterways, even as he added that this will enable the agency to respond swiftly to emergency, data capturing and as well determine number of accidents and movement of passengers on the Lagos waterways.
The General Manager further informed that the agency is committed to infrastructural development as a veritable platform for the sustainability of water transport infrastructure and investment.
According to him, this informed why the state is renovating 15 jetties and one terminal across the state in a bid to enhance delivery of water transportation services to boat users across the states.
Read Also:
He informed that 60 percent of the renovated jetties are almost ready for operation.
He assured of the state government's commitment towards improving safety standards of the state inland waterways.
According to him, "what we set out to do is the upgrade of infrastructure and this has to do with the jetties and terminals across the state, because without reconstruction, there is no embarking or disembarking for passengers so the state government is currently rehabilitating jetties and terminals.
"Some of infrastructure are 65% ready for utilisation after completion and commissioning by the Ministry of Waterfront Infrastructure and Development, the facilities will be handed over to LASWA for proper maintenance , operationalization and supervision.
"In the area of compliance, we have seen about 90 per cent compliance of life jackets on the waterways.
"Life jacket is a lifesaver and that is why water transportation is the safest mode of transportation" he said.
The General Manager also disclosed that 48 water guards have been deployed to some areas, so as to improve waterways safety and monitoring.
Kindly like us on Facebook