By Oluyinka Onigbinde
Niger Republic, Nigeria's northwest neighbor is set to stop patronising Cotonou port in Benin Republic. This has been confirmed by a top official of the Nigerian government.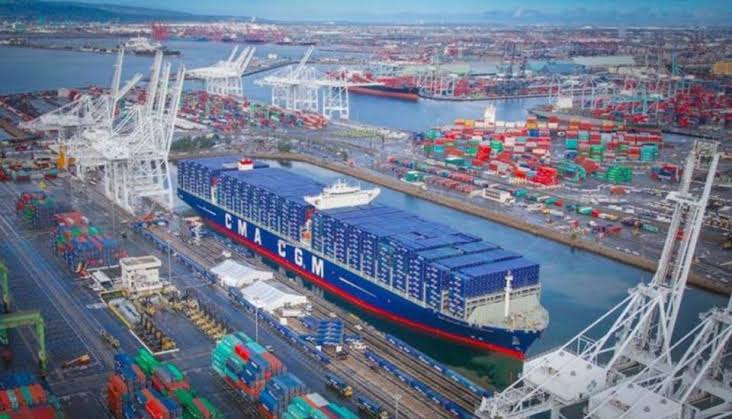 The Director General, Ministry of Transportation, Niger Republic; Mme Tchima  Moustapha told Shipping Position Daily last week at the commissioning of the Lekki Deep Seaport in Lagos.
Checks by our correspondent revealed that Nigeria is losing 60% of its cargoes that translates to a whooping sum of N136 billion annually to its West African neighbouring countries of Ghana, Togo and Benin Republic.
The loss, according to findings, was as a result of the country's inability to receive mega sized ships and persistent human-to-human contact which breeds corruption at its seaports.
A 2021 research report by Netherlands' leading consulting firm, Dynamar revealed how Nigerian ports of Apapa and Tin-Can had fallen behind in terms of vessel call in the West African sub-region.
According to Dynamar, since 2017 when the Port of Lomé (PAL) in Togo rapidly expanded from 311,500 20-foot equivalent (TEU) containers in 2013 to 1,193,800 TEU in 2017, the port has not looked back as it continues to lead due to a depth of 16.60 meters.
With 80 percent of containers shipped to West and Central Africa destined for Nigerian markets and close landlocked countries the cargoes have had to be shipped either to the ports in Lome, Togo or Abidjan in Cote D'Ivoire there by making Nigeria lose revenue that ought to be accrued to its coffers.
With a depth of about 10.5 meters, Nigeria's busiest port of Apapa, due to its shallow draft, cannot accommodate large ships that call at its neighbouring ports, thereby losing out on many cargoes to these ports.
For leading shipping companies in global trade, deployment of ultra-mega sized ships is the trend as it reduces cost of operation for the shipping liners. Outside Lagos, the Onne port which is close to what Nigeria can boast of as a deep seaport has a depth of 13 metres, still a far cry from what is obtainable in Lome which has 16 metres depth. With this disadvantage, Nigeria has been losing out on receiving very large ships due to the shallow nature of its seaports.
Findings also revealed that another constraint being occasioned at Nigerian ports that has led to loss of cargoes has been the issue of lack of automation of port processes. With human-to-human contact highly prominent at Nigerian seaports, the issue of corruption has refused to give way, thereby also increasing the cost of doing business at her ports, and leading to vessel diversion from Nigeria's ports to neighbouring ports.
Indicating interest to transit cargoes through the Lekki port, in an exclusive chat with our correspondent, the Director General Ministry of Transportation, Niger Republic; Mme Tchima  Moustapha said with the modern facilities available at the lekki deep seaport, the country is ready to dump the Cotonou port and  Lome, while they transit their cargoes via the Lekki deep seaport through the Dala Inland Dry Port.
According to her, "Lekki deep seaport is a new port, a modern one; definitely it will be a good relationship between Niger Republic and Nigeria and that is why I am here to see the place and go back to my country and give them the report".
"I am happy with what I am seeing, and I will make sure that the Niger Republic tries to bring their cargoes to come through Nigeria from now on. You know our major port is Cotonou, so we are trying to divert our shipment cargo to Nigeria because of this port", she confirmed.
" Nigeria to Niger is about 1000 kilometres,  but since this is a modern port and definitely I know  there will be a response on time so we are going to be using it more, so the cost and guarantee will be valid" she said.
Also speaking during the commissioning of the port last week, the Managing Director of Nigerian Ports Authority (NPA) Mohammed Bello Koko, had also informed that some neigbouring countries are already indicating interest in moving their cargoes from Lekki to Kano then to other African countries, because they have seen the opportunity of smooth operations and the efficiency of the port
"While sitting here we already have interest from a certain neighboring country that is already talking about moving their cargoes from Lekki to Kano then to the African country, because they have seen the opportunity of smooth operations here and the efficiency", he said.
shippingposition
Kindly like us on Facebook/twitter