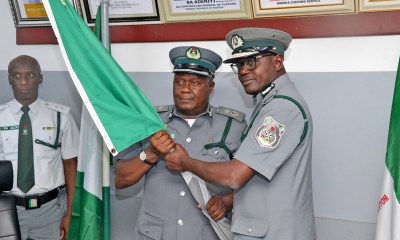 The outgoing Customs Area Controller of the Nigeria Customs Service, Lilypond Export Command Lagos, Comptroller Mohammed Babandede, has handed over the Command's leadership to Comptroller A.Y Odusanya.
The formal handing over, which took place at the Command on Monday, started with Babandede's gratitude to God, dedicated officers and other stakeholders who relentlessly gave their best to ensure the Command's success.
He said, "When I came to Lilypond Command, there was low activity, but with your collaborative efforts, we generated millions into the Federal government coffers".
The new Customs Area Controller, Comptroller Odusanya, stated that, a high standard has been set by his predecessor, who is also the pacesetter of Lilypond Export Command, But with the support of Officers, Sister Security Agencies and other stakeholders, success is guaranteed.
He said, "There is no way the history of this Command will be told without mentioning the superlative effort of Comptroller Babandede."
"Although he is going for another assignment, I will always call on him for guidance and to tap from his pool of knowledge", he added.
The President of the Barge Operators Association of Nigeria (BOAN), Bunmi Olumekun, described Comptroller Babandede as a "one-stop shop for everything export".
"Comptroller Babandede is an Officer who is always ready to listen to our opinions and provide solutions whenever we face any export hurdle. We will miss his commitment to work," he said.
Comptroller Babadede will, however, resume in Lagos Free Trade Zone Command as the Customs Area Controller