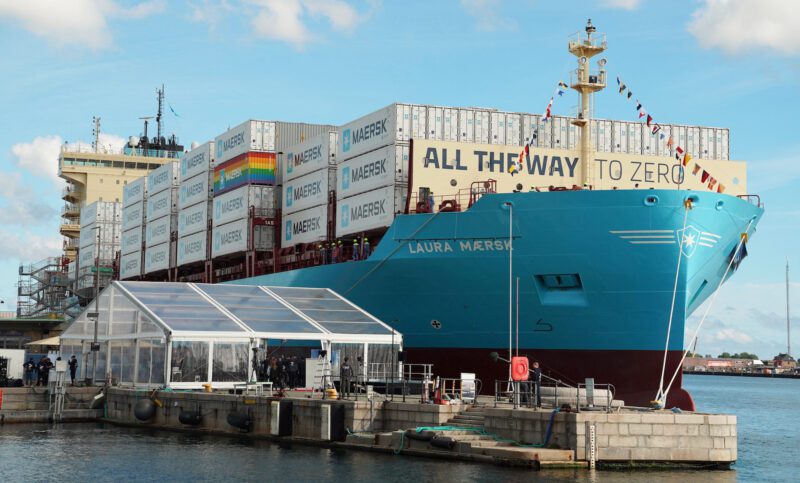 The President of the EU Commission has named the world's first methanol-powered containership during a naming ceremony at the Port of Copenhagen.
The vessel, Laura Maersk, is the first of 25 methanol-enabled ships ordered by Danish shipping giant Maersk and the first and only 2,100-TEU-capacity feeder ship out of the group. Maersk intends to power the ship with zero-emission green methanol.
EU Commission President Ursula von der Leyen christened the vessel by breaking a champagne bottle over the bow alongside Maersk Chair Robert Uggla and Maersk Chief Executive Officer Vincent Clerc.
"Laura Maersk is a historic milestone for shipping across the globe. It shows the entrepreneurial spirit that has characterized Maersk since the founding of the company, However, more importantly this vessel is a very realproof point that when we as an industry unite through determined efforts and partnerships, a tangible and optimistic path toward a sustainable future emerges," said Clerc. "This new green vessel is the breakthrough we needed, but we still have a long way to go before we make it all the way to zero."
The name "Laura" has a long and storied history with Maersk. When Captain Peter Maersk Moller bought his first steamship in 1886, he named her "Laura". Laura was also the first ship to emblazon Maersk's white seven-pointed star on a light blue background—a symbol that would later become the logo of A.P. Moller-Maersk.
Maersk has set its ambition to achieve new zero greenhouse gas emissions by 2040 (a full decade ahead of the industry standard) and it aims to transport a minimum of 25% of ocean cargo using green fuels by 2030. The Laura Maersk is a critical step towards Maersk's long-term objective of gradually renewing the entire Maersk fleet to operate solely on green fuels. Maersk has 24 additional methanol vessels on order for delivery between 2024 and 2027 and a policy to only order new, owned vessels that come with a green fuel option.
Maersk took delivery of the 172-meter-long Laura Maersk in July from Hyundai Mipo Dockyard in South Korea. It made its maiden voyage from Korea to Copenhagen powered by green methanol supplied by a unit of OCI Global, the world's leading green methanol producer.
Laura Maersk, which is registered in Denmark, will be operated on a Baltic shipping route between Northern Europe and the Bay of Bothnia.
Maersk's remaining methanol orderbook includes twelve 16,000 TEU and six 17,000 TEU ships on order at Hyundai Heavy Industries, with deliveries in 2024 and 2025. It also has an additional six 9,000 TEU ships on order at Yangzijiang Shipbuilding in China, which are planned for deliver in 2026 and 2027.
To help meet demand for the fuel, A.P. Moller Holding (APMH), the majority-owner of Maersk, said it had formed a new company C2X to pursue large-scale green methanol production. Maersk holds a 20% stake in the new standalone company.
Methanol is emerging as a preferred alternative fuel to help the shipping industry decarbonize with more than 200 ships ordered with the fuel option, according to DNV.