By Joshua Yousouph
Maritime stakeholders have highlighted real reasons Nigeria is not prepared for the implementation and benefits of the Africa Continental Free Trade Agreement (AfCFTA). This is even as they blamed the obstacles on bad governance, and lack of adequate infrastructure amongst other critical issues.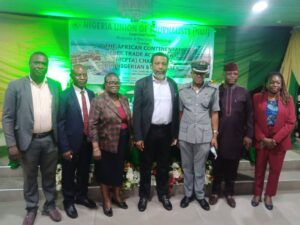 Speaking in a one-day workshop organised by the Nigeria Union of Journalists (NUJ) with the theme "The African Continental Free Trade Agreement Challenges On Nigerian Businesses" in Lagos on Tuesday, the Director-General of the Manufacturers Association of Nigeria (MAN), Dr. Akadiri Ajayi who was represented by Mr Olusegun Oshidipe noted that Nigeria is not fully ready for improved local, continental and global trade due to numerous familiar challenges confronting the private sector.
Ajayi said the ability of Nigeria as a nation to benefit maximally in the AfCFTA trade corridor depends largely on the existence of a strong handshake between the Government and the private sector, especially manufacturers. He however noted that Nigeria will excel in the agreement if greater attention is given to improving the competitiveness of the manufacturing sector of goods produced in Nigeria.
"The expectation is that Government will ensure that all the readiness, requirements and expectations are met, particularly the concerns of the stakeholders; as measures need to be emplaced to not only position the country for beneficial trade, but mitigate the negative impacts of this trade arrangement on the economy, especially the manufacturing sector. Safeguard measures and safety nets must be in place to shield the economy from injurious trade practices that characterized free trade areas".
On his part, the Registrar, NAGAFF Academy, Apapa, Mr Francis Omotosho in his presentation titled "The Workings of AfCFTA and its Benefits", noted that Nigeria is the largest country amongst the recognised 54 countries in Africa. He stressed that there is a need to remove tariffs and non-tariff barriers to get the best from AfCFTA.
Omotosho specifically noted Nigeria's lack of unity, inadequate trade infrastructure, lack of rail system, inconsistency in trade agreements among member states, political instability, and poor Information Communication Technology apparatus among others as challenges faced and if not addressed AfCFTA cannot be implementated in Nigeria.
"The first challenge faced by AfCFTA is Nigeria's lack of unity. Until Nigeria comes together, the agreement is just an infatuation. Another barrier to the implementation of the agreement is the lack of commitment to eradicating the free trade barrier. I don't see the readiness in Nigeria. The customs is not ready. All the government agencies are not ready", he said.
He added that, "as we speak now, all the shipping lines in the whole world are planning to make Ivory Coast hub port in West Africa. This is because they are fed of unnecessary delayed processes in Nigerian seaports and they don't want to come to Nigeria again. We will now have a situation where every imported cargo lands in Cote d'Ivoire and drop everything and Nigeria finds her way to bring her containers intended for Nigeria. Should we start talking about delays in Nigerian seaports? So, they are tired of coming to Nigeria. They are looking at Ivory Coast looking at the standard of their port. We don't know whether Lekki Deep Seaport after completion would give us a relief", Omotosho said.
Speaking earlier, the Chairman of the Nigeria Union of Journalists (NUJ) in Lagos, Mr. Adeleye Ajayi in his welcome address said AfCFTA presents a major opportunity for African countries to bring 30 million people out of extreme poverty and to raise the incomes of 68 million others who live on less than $5.50 per day.
According to the NUJ helmsman, achieving the full potential of AfCFTA will depend on putting in place significant policy reforms and trade facilitation measures. However, with its implementation, trade facilitation measures that cut red tape and simplify customs procedures would drive $292 billion of the $450 billion in potential income gains. It would also help usher in the kinds of deep reforms necessary to enhance long-term growth in African countries.
"The African Continental Free Trade Area has the potential to increase employment opportunities and incomes, helping to expand opportunities for all Africans. Creating a single, continent-wide market for goods and services, business and investment would reshape African economies. The implementation of AfCFTA would be a huge step forward for Africa, demonstrating to the world that Africa is emerging as a leader on the global trade agenda", Adeleye said.
While giving an opening remark, the Chairman of the occasion and former National President of the National Association of Government Approved Freight Forwarders (NAGAFF), Dr Eugene Nweke noted that it is time for Nigeria to fine-tune its involvement and participation in the AfCFTA as Nigeria is the greatest market every other country are targeting. He noted that the agreement has been signed already and If Nigeria which is the big brother of Africa doesn't position itself well; it would be sidelined and left out of the potential and benefits of AfCFTA,
In a keynote address by the Governor of Lagos State, Mr Babajide Sanwo-olu, the State Ministry of Commerce who was represented by Mrs Bashiru Omolabake noted that the Ministry together with other ministries has been working on how to key into the benefits of AfCFTA. She stated that the ministry which is in charge of trade promotion is already working on the exportation of products produced in Lagos State.
"We have the export promotion committee already in place that always has quarterly meetings. In these meetings, we have been able to bring out three products from Lagos State which are Coconut, Fish, and vegetables and now we are looking at fashion because, we all know that Lagos is the Centre of Excellence, we are fashionable. The Ministry has established a fashion hub in the Ikeja axis and is planning to set up another one in the Yaba area preparing people in this sector for the AfCFTA agreement", Bashiru said.
The Director-General of the Nigerian Maritime Administration and Safety Agency (NIMASA), Dr Bashir Jamoh who was represented by a NIMASA Deputy Director, Owonubi Olajide stressed that the implementation of AfCFTA would require Nigeria to invest more in assets and personnel to maximize the impact on maritime security.
"It is hoped that Africa nations would continue to pursue cooperative security ventures and collaborations to eliminate security threats posed by piracy and other maritime offences which would, in turn, boost international trade and investor confidence by ensuring the safety and security of the continent's maritime ecosystems, vessels, seafarers and cargoes" Jamoh noted.
Also speaking, a representative from the Nigerian Shippers Council (NSC) and Export Desk Officer, Mrs Juliana Saka noted that the Council's efforts at encouraging shippers' to participate in AfCFTA trade are replete with several hurdles such as poor knowledge of shippers on the content of the AfCFTA agreement, challenges of high logistics cost in Nigeria, poor infrastructure amongst others.
Mrs Saka said for shippers in Nigeria to trade competitively under the AfCFTA, issues concerning the provision of adequate trade infrastructure and improved trade environment in the following areas such as rehabilitation of critical road networks that would facilitate local and international trade Development and completion of rail projects to facilitate cargo movement must be decisively tackled.
"AfCFTA can complement Nigeria's national development agenda and can also act as a catalyst for the country's economic growth. Trading under the Agreement offers Nigerian products and services, and preferential access to the huge African market which currently sources over 85% of its product imports from outside the continent. However, for shippers to take advantage of substantial business opportunities that lie in wait for Nigerian businesses in Africa, Government must take measures that will enable them to trade competitively under the Agreement" Saka noted.
Kindly like us on Facebook