Stakeholders in the Nigerian maritime industry on Friday took turns to eulogise the retiring Executive Secretary of the Nigerian Shippers Council; Mr Hassan Bello, with majority affirming that his eight years as the CEO of the Council was the 'shortest' ever.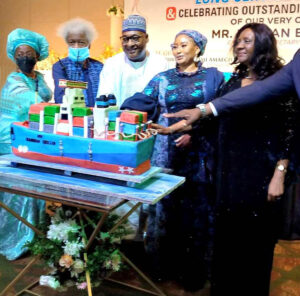 The stakeholders who included the Minister of Transportation, Mr Rotimi Amaechi, took turn to appraise Bello's eight years as the chief executive officer of Shippers Council, at a colourful sendforth ceremony that was organised for him in Lagos on Friday.
This is even as Mr Hassan Bello, said that, lack of synergy among maritime agencies is hampering the growth of the industry.
The Minister for Transportation, commended Bello for his achievements in the NCS. "For him to be having this standing ovation at his departure, it means that he is a good man, and his going is a bit emotional for me and my family. We wish him well," Amaechi said.
In his goodwill message, Dr Bashir Jamoh, the Director-General of NIMASA, noted that Bello signified cost-effectiveness, efficiency and worked in line with the global best practices.
Jamoh said that Bello stood his ground and proffered solutions to contain corruption at the ports.
"The subject matter today is Hassan Bello, and what he has achieved for the past eight years as the Executive Secretary of the NSC.
"He is known for his doggedness in solving issues, in the aspect of gridlock, trade expansion, national fleet issues and others and for every area, you can write a chapter of a book, on his contribution to the industry," he said.
Also, Mrs Margret Orakwusi, a ship owner, said that Bello had given a lot to the industry and hoped that after distinguishing himself, the country would appreciate him by giving him a higher appointment.
She described Bello as a man of integrity, honesty, brilliance, and someone who lived by example and had challenged them to work during COVID-19 lockdown.
Mr Adebayo Sarumi, a former Managing Director of the NPA, said that each time he spoke of Bello, he put himself in a position of a father that raised a son that made him proud.
"I am proud to say that I employed him into NSC as a lawyer and he is a man we need as a transport Coordinator, he is Mr modalism, and fair play," he said.
Mr Bashir Machina, Chairman, NSC Board, said that Bello's eight years' tenure were years of non-stop action, always raising the bar.
Machina, represented by Otunba Seyi Oduntana, said that Bello's determination and courage led to shippers' council becoming an economic regulator.
Also speaking, the immediate past National President of Association of Nigerian Licensed Customs Agents (ANLCA); Prince Olayiwola Shittu acknowledged Bello's immense contributions to and support for the freight forwarding profession, especially during the conception and the formative years of the Council for the Regulation of Freight Forwarding in Nigeria (CRFFN). He concluded that, the Nigerian transportation industry still needed Hassan Bello.
Mrs Nnenna Akajiemelu, SERVICOM Nodal Coordinator, noted that showing appreciation to a staff brings about entrenchment of healthy competition and mentorship of the young ones to do the right thing.
She noted that SERVICOM worked to raise and praise those who excel at their assigned tasks.
"Today, we are celebrating great service, milestones, giant strides achieved by Bello and staff of the shippers' council.
"In celebrating those that excelled, there is a need to also shame those that have not performed and that was what SERVICOM was established to do.
"We are here today to praise and celebrate our dear brother, Bello, and we are proud to associate with his milestone. We are celebrating long years of selfless service, mentorship, ownership and working to excel," she said.
While responding to the various statements, Bello stressed the need to accord all the agencies under the Minstry of Transportation equal sttaus,
"No agency is better than the other, all of us have work to do and agencies are not graded by their budget but what they are called to do."
"It is very unfortunate that some agencies think that maritime starts and stops with them, which make them to spend so much to defend some territories, to the extent of neglecting what they are set up to do.
"The Federal Ministry of Transportation has undergone some transformation and it is rewarding to say that the yoke of state capture has been broken by the Minister of Transportation.
"Shippers Council will not have been anywhere but for the support of the ministry, and so, I urge my colleagues from sister agencies on collaboration to move the industry forward.
"There is lack of collaboration between agencies, the Nigerian Maritime Administration and Safety Agency (NIMASA), National Inland Waterways Authority, the Nigerian Ports Authority (NPA) and others, but this is not meant to be because they are meant to build blocks.
"There is lack of synergy in the industry and that is not good because we all must operate based on equality, and the NSC will not take it from anybody now, tomorrow or whenever," Bello said.
Bello who said the NSC was working with the Nigerian Customs and the Central Bank of Nigeria to save more funds for the country wondered why they were not having same cooperation with sister agencies in their own jurisdiction.
"We are glad that we have a minister and a permanent secretary that understand that every agency must contribute, and there is no big agency because big agencies can crumble if they don't do the right thing.
"NSC is the lead agency for the port manual, apart from being a port regulator, and this came because of its neutrality and professionalism. And these are things that we must look at," he said.