The Flag Officer Commanding (FOC), Western Naval Command, Rear Adm. Jason Gbassa has noted that a recent report of the International Maritime Organisation (IMO) shows little activities of piracy within the Gulf of Guinea.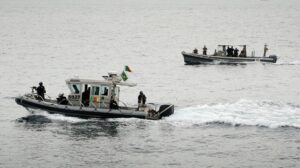 Gbassa said this through the Command's Chief Staff Officer, Rear Adm. Habila Zakaria who represented him when the Consul General of Brazil to Nigeria, Mr Francisco Luz paid a courtesy call to the Command.
He said that the recorded achievement was possible because of Nigerian Navy's collaboration with other foreign navies' in conducting sea exercises that ultimately improved security at the Gulf of Guinea.
According to the FOC, the Brazilian Naval Ship (BNS) INDEPENDENCIA also visited the country for a maritime interdiction mission code named 'GUNEX' in the Gulf of Guinea.
"By and large the Nigerian Navy has done much to ensure that the maritime environment is deprived of any form of illegalities.
"A recent report from IMO shows that there are little or no report of piracy within our waters.
"Therefore, BNS visit is aimed at strengthening bilateral relations between Nigeria and Brazil as well as enhancing maritime security in the Gulf of Guinea," he said.
Gbassa said that Nigeria and Brazil had come a long way and that both countries had a lot of bilateral agreement, one of which was in defence.
"We have had exchanged programmes within the militaries which is quite commendable and we will explore further way of doing so.
"The presence of the BNS in Lagos is also part of our strategic directive to collaborate with foreign navies to improve maritime security in the Gulf of Guinea.
"Once in a while they come around to pay port calls and we also participate in sea exercises with them," he said.
The FOC said that the visit of the Brazilian vessel would enable maritime exercises which would improve maritime security within our waters and by extension the Gulf of Guinea.
"The Gulf of Guinea is of interest to the Nigerian Navy because it spans from Senegal down to Angola which is a very wide expanse of land.
"If we allow all maritime legalities to continue to thrive within these waters, it will have a ripple effect on cost of items especially within the landlocked countries and of course Nigeria," Gbassa said.
Also speaking, Luz said that Brazil and Nigeria are the biggest countries in Latin America and Africa respectively therefore, it was important to ensure security of the maritime environment.
"So, we have the biggest economies, the biggest population. Therefore, we have so much in common and our relationship must reflect this situation in all realms especially in defence.
"This visit should happen more often and we should be exchanging officers in all levels," he said.
The Consul said that both countries had a big responsibility of keeping the Atlantic safe from piracy and other illicit maritime activities.
"Brazil and Nigeria share the Atlantic Ocean as a border so having our borders safe is important for everyone therefore, no cost is too expensive to keep the Atlantic Ocean safe.
"It is only through this kind of operation that we can build trust between our military which is essential to keeping the peace in the region.
"It is quite important for both navies to work together and I believe that this will bring our country together and strengthen bilateral relations," Luz said.
Kindly like us on Facebook