Maritime stakeholders have demanded more visibility for female seafarers to showcase their work and competence.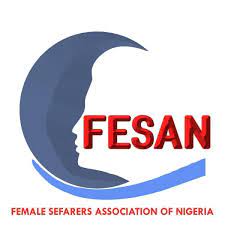 The stakeholders made the demand, amongst others, at the Female Seafarers Association of Nigeria (FESAN) 2021 summit, held in Lagos.
The demands were contained in a communique signed by Koni Duniya, President and Founder of FESAN and Ezinne Azunna, chairperson, Women in Maritime Journalism (WIMAJ), made available to newsmen on Friday in Lagos.
The communique state that only few ship owning organisations had in-house policies that fostered growth, visibility and accomplishments of female seafarers.
It noted that their visibility was needed in shipping to ensure sustainability and to drive effective decision making, adding that mentoring of younger females seafarers was necessary in the quest for a fair future.
"The pandemic threw open the critical roles seafarers play in facilitating global trade, which shows that seafarers work under harsh conditions.
"Deliberate strategies guaranteeing a fair future of female seafarers are sparse, also neither implemented nor prioritised in Nigeria.
"A safe and secure maritime domain would further encourage more females to join and thrive in seafaring," it said.
The communique pointed out that competence was also the criterion for engaging seafarers as such training and capacity development for female seafarers needed to be prioritised.
It called for collaborative efforts between Nigerian Maritime institutions and foreign flag state to promote the engagement of Nigerian cadets on international vessels.
Accordingly, the communique recommended that FESAN should pilot more engagements among female seafarers and stakeholders in the country to decide measures and modalities for increased women's participation in the maritime sector.
It noted that the government should create specific opportunities such as encouraging allocations for females on vessels trading in Nigeria, training and development for women.
"NIMASA should increase its female training quota in the NSDP and maritime industry stakeholders should review policies on pregnancy and maternity leave to ensure convenience for females working onboard vessels.
"Configuration of ships to accommodate females should be encouraged and employers can employ more females on the same vessel to minimise the challenge of cabin sharing.
"Female seafarers should also invest in self development in preparation for opportunities they seek, while stakeholders should introduce and implement policies that support the growth and visibility of female seafarers," it said.
The communique noted that collaborations between indigenous maritime institutions and foreign flag state through accreditations could boost engagement of indigenous cadets by foreign vessels.
It said a system that decisively dealt with sexual molestations on board vessels was required, adding that any form of disrespect should be sanctioned.
Some of the stakeholders at the summit included: Sen. Gbemisola Saraki, Minister of State for Transportation, Ms Helen Buni from the International Maritime Organisation, Mr Temisan Omatseye, former President, African Shipowners Association (ASA).
Others were: Mrs Hope Orivri, Women in Maritime Journalism (WIMAJ), Hajia Bola Muse, President, Women in Maritime Africa (WIMA) Nigeria, amongst others.
FESAN is a support/empowerment, mentoring and advocacy platform for female seafarers in Nigeria.
Kindly like us on Facebook