Maritime stakeholders have said that capacity building is key to a prosperous future for seafarers in the country.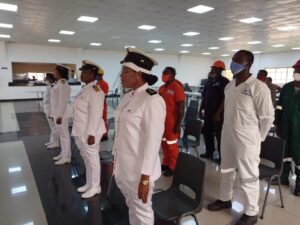 They made the assertion on Thursday at a webinar organised by the Female Seafarers Association of Nigeria (FESAN) to commemorate the Day of the Seafarers.
The webinar theme was : "Fair future for seafarers".
Mr Emmanuel Maiguwa, President, Alumni of Maritime Academy of Nigerian Oron, noted that gender was not an issue in the industry but competence and so the need for women to build their capacity.
Maiguwa said the wrong approach had been taken in the quest to increase the number of female seafarers, noting that the approach was not helping them.
"There is no doubt that there are limitations, these challenges are there but we should consider the likes of Dr Ngozi Okonjo- Iweala and others, all of them did not get to their positions because they are women.
"They faced their challenges and got to where they are and that is by building capacity in their fields and that is what a ship owner is looking for in a seafarer," he said.
Maiguwa appreciated FESAN for setting up the platform for seafarers, adding that it would serve as an avenue for them to lodge complaints of sexual harassment.
Also speaking, Mr Temisan Omatseye, former Director- General, Nigerian Maritime Administration and Safety Agency, noted that the level of discrimination against female seafarers was unfortunate.
"Women are extremely cautious and can do what they are asked to do with integrity and so wherever a seafarer finds herself, she should build capacity in that field to excel,"Omatseye said.
Mrs Hope Orivri, who represented the Women in Maritime Journalism noted that inclusivity and sustainability would ensure that female seafarers had a fair future.
"FESAN is doing a good work by ensuring that seafarers have a place to be, and they will give them the voice to speak and so engaging with them will ensure a fair future for them,' Orivri said
The President of FESAN, Ms Koni Duniya, said that protecting the right of females working at sea from any form of discrimination, was the aims and objectives of the association.
According to her, the problems faced are huge but with little steps, they will get there, and this event is a huge step toward resolving the issues that are in existence.
"We do not have the capacity to employ our female members but as an association, we will bring everybody together, create a platform to serve as an advocacy group for female working at sea.
"To ensure that people are held accountable, bridge the gap between the industry and the individual led to the emergence of FESAN," she said.
In her keynote address, Sen. Gbemisola Saraki, Minister of State for Transportation, noted that government had put in place policies that would ensure a fair future for seafarers in the country.
Safari said that President Mohammadu Buhari launched the Deep Blue project to ensure that the maritime domain was safe and secured and this would also ensure safety of seafarers.
She noted that the availability of information technology had made seafaring very technical, leading to adopting of only trained seafarers irrespective of gender, urging women to get the needed capacity.
"Seafarers are the backbone that keep international trade to go on. Port operations and delivery of goods are only interrupted by force majeure and so the need to appreciate them.
"More specific opportunities should be created, so that the next generation female seafarers will have an opportunity," she said.
Kindly like us on Facebook