In a bid to strengthen the fight against drug abuse and illicit trafficking in the country, the National Drug Law Enforcement Agency (NDLEA) has appointed the founder of the National Association of Government Approved Freight Forwarders (NAGAFF), Dr. Boniface Aniebonam as an ambassador of War Against Drug Abuse (WADA).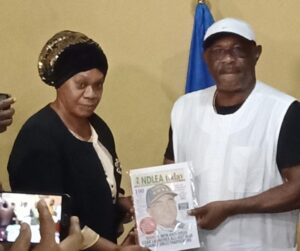 WADA was inaugurated by President Muhammadu Buhari on the 26th June 2021 in collaboration with the United Nations in order to bring in well-meaning Nigerians and stakeholders to synergise with the NDLEA in fighting against drug abuse and illicit trafficking in the nation.
The Chairman and Chief Executive of NDLEA, Brigadier General Muhammad Buba Marwa OFR (rtd) who was represented by Deputy Commander General of Narcotics (DCGN)/ Director of Seaports Operations, Mrs Omolade Faboyede stated that Dr. Aniebonam was nominated and considered worthy to be an ambassador of WADA. He however charged Aniebonam to synergise and collaborate with the NDLEA in propagating the war against drug abuse and illicit trafficking.
"Doctor, you have a voice amongst freight forwarders and in the Maritime industry. You also have a voice in Nigeria and we believe that with your voice you can help us win this war against drug abuse. Permit me to congratulate you as we look forward to your participation and achievements in this task given to you" Buba Marwa said.
On his part, the founder of NAGAFF, Dr. Boniface Aniebonam expressed his gratitude towards the privilege given to him and the association by the NDLEA as an ambassador of WADA. He rehearsed the synergy and existing cooperation between the association and the NDLEA. Aniebonam however pledge his continued support and promised to take up the responsibility given to him and the association in ensuring that drug abuse and illicit trafficking is reduced and discouraged in the country. He also charged members of the association to avoid going into partnership with any security agency in other to commit crimes but they should be law abiding at all times and embrace respect for rule of law and regulations.
In his words, "there is no gain saying against the fact that drug abuse and other related vices is a serious issue in the country. It is good that some of us are coming to play a role in discussing the inherent dangers and curbing these practices. We thank the NDLEA for this privilege and hereby re-emphasize our pledge to enter into strategic and responsible partnership with the NDLEA. We promise to continue to do our best in our own little capacity and followership" Aniebonam said.
Kindly like us on Facebook