.Our certificate is standard, it is recognised internationally
.It is not easy to pass the NCAA audit
In this interview with Oluyinka Onigbinde, the Acting Rector of the Ilorin, Kwara state-based International Aviation College Ilorin; Okatayi Yakubu speaks on manpower development in the aviation sector, an sundry transport sector issues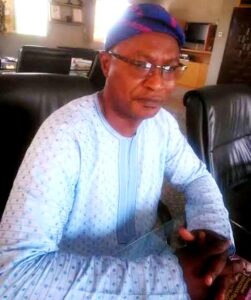 What is the difference between International Aviation College, Ilorin and the Nigerian Institute of Transport Technology (NIIT) Zaria?
We are charged mainly to train pilot. We actually went further to train light dispatchers and we also tried to introduce some other courses. But the institute in Zaria trains people on transport generally. I have a master's degree in Transport Management Technology for the Federal University in Owerri (Imo state). We do different trainings.
How would you describe the aviation sector in Nigeria today? Are we in conformity with international best practice?
Definitely we are. In fact the Nigerian Civil Aviation Authority which is in charge of aviation are very strict and straightforward. It is not easy to pass their audit. They don't cut corners and once you get it, you get it. The present DG is actually a nice man. When he tells you what to do and you follow it, you have no issue.
How will you describe the Nigerian transportation sector holistically?
People who want to go into transportation wants to go into it cheap. They don't want to invest in good buses or whatever. You can imagine that the Federal Government is just going into standard rail now after all these years, but I think by and large the transportation system is going to improve, but we are not there yet.
Talking about the aviation school you run, what is the annual intake? How many young Nigerians have gone through that training as at today and how acceptable is the certificate that you issue?
The certificate is standard. It is recognised internationally. If you take your license to America they will give you the equivalence. If you bring your license from America to Nigeria, they will give you the equivalence too. Since the inception of that school, we have been able to graduate over 300 Pilots and we are still graduating. The Nigerian aviation needs a lot of Pilots, because the old Pilots are retiring. Who will replace them? We have a shortage right now except we go to overseas and employ; which is not advisable. In those days when you see the crew of Nigeria Airways, they are all Nigerians. But nowadays because of shortage we can see foreigners that are working.
But we have some airlines that are also closing shop. Don't you think this may have also affected the shortage in the number of Nigerian pilots?
You see, many of them close shop because of economy of the nation. There is nothing you will do in Aviation in this country that is not coming from foreign base that is the Dollar. If you want to import Aircraft you will need Dollars. If you want to replace a part you will also need Dollars, even aviation fuel, you will need Dollars. That is the problem. That is why they are closing shops. Also, the salary for the Pilots and Engineers and other crew is high. So what do you do? You cannot be running a business that you are not making profit.
Looking at the issue of National carrier, are we ripe for it? Do we need it or have the money, the will or the capacity to do it?
We have the money to do it, we have the will and we also have the capacity. If we want a national carrier, the Federal Government doesn't have to run it. They can invest in it and regulate it. They should put professionals to manage it. They should not just say they want to put anyone because he knows about the job, they should advertise the position and whoever is capable to do it, should be allowed to do it.
Looking at the deadline, which is this December, do you think it is achievable?
I don't think it is achievable because firstly, I don't know how much they have done with NCAA. But if they want to do a properly, it doesn't cost our Federal Government to buy brand new aircrafts and ask them to start with it. Or they give the locals that are running airlines; that is Nigerian businessmen that are running locally, we can also allow them to run international. Of course they can lease. It is just that when you are leasing, it is a little bit more expensive. But as a Nigerian, I would not advise that they lease national carrier. I would advise the buy it out rightly. This outright purchase is that we are saying we want to buy 20 aircraft, this is the amount we have, we deposit it and they give us the aircraft. Nobody goes to British Airlines and the likes to go and pay cash like that. They go and deposit and the start supplying the aircraft. They can even be supplying the aircraft for the next 10 years.
How cheap is aviation education?
It is not cheap. You have to pay for it. You know, you would need to buy aircraft and some other things. If you look at all the total cost you have to pay for it. You would need to pay instructors to teach students. That is what they need to do, but unfortunately, it is not easy but Nigerians have the money to do it.
Can you give an estimate of what it costs a common Nigerian to as a pilot in Nigeria?
We were lucky when we started the training. The Federal Government sponsored us, but as the economy was getting bad, the Federal Government was withdrawing. Now, the private people will have to sponsor their sons and daughters. That is why you are thinking you are a common Nigerian because you don't have 15 million to pay. But if you are interested and you have the will you can go ahead and train yourself or your child.
How long does it takes to be trained in your College?
In my college, there are so many things we need to do. It depends on a lot of things too. But generally it takes about 21 months to train as a Pilot. You can also get a commercial license. Then you will be a raw Pilot. At that point they can fly commercial flights but they have to train him. The training he is going to undergo at that time is a different training. Unfortunately, if you are just coming out of school, the insurance policy they will tell you to go and get 1500 hours experience for you to be able to fly an airline.
shippingposition
Kindly like us on Facebook/twitter