A growing number of shipping companies have been put up for sale recently, desperate to find new owners before a highly anticipated downturn in the global shipping industry, according to industry officials, Tuesday.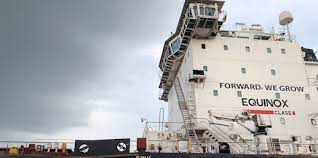 The latest example was Hahn & Company's move to sell SK Shipping's tanker business.
The private equity firm (PEF), which acquired a controlling stake in SK Shipping from SK Group in 2018, reportedly stands to earn 2 trillion won ($1.5 billion) through the forthcoming deal, which is expected to be signed with domestic or foreign shipping companies or other PEFs.
H-Line Shipping, another Hahn & Company-owned shipping firm, is also said to be up for sale. The seller has talked with multiple potential buyers since earlier this year, according to industry officials.
Although Hahn & Company was unavailable for comment on this issue, the PEF's potential divestments of its shipping portfolios are regarded as steps to keep pace with the global trend of shipping firms pursuing economies of scale where?larger ships and high capacity loading and unloading equipment are taking over the maritime transport industry and major cargo routes.
"It is difficult for smaller firms to make investments to satisfy environmental regulations, so more shipping companies are likely to merge with each other," Samil PwC Director Lee Eun-young said. "As shipping companies have improved their financial soundness during the COVID-19 pandemic, this is the right moment for them to pursue M&As."
Earlier this year, Polaris Shipping began looking for a new owner.
Lazard Asset Management, the underwriter of the sale of the mid-tier bulk carrier company, reportedly sent teaser letters to institutions and investors last month. The size of the deal is estimated at around 600 billion won.
If Polaris Shipping succeeds in finding a new owner, a consortium of NH Private Equity and Aeneas Private Equity, which is the second largest shareholder of the shipping company, is expected to retrieve its investment, six years after the two PEFs began investing in the debt-ridden firm.
The seller has sought to attract buyers by taking advantage of its long-term contracts with major shippers, such as Brazil's Vale, as well as Korean firms including POSCO, the Korea Electric Power Corp.'s subsidiaries and Hyundai Glovis.
Among larger shipping companies, HMM has captured the market's attention, since its creditors began the process earlier this month to privatize the company.
"After its liquidity crisis in late 2013, HMM has normalized its management by improving its financial structure and securing footholds for its sale," Korea Development Bank said in a press release.
HMM is expected to be sold to one of Korea's major conglomerates, such as POSCO, Hyundai Motor, LX and CJ groups, although those business groups have remained cautious about such speculation. There are also expectations that HMM may acquire one of the small- and medium-sized shipping companies put up for sale on the M&A market.
However, the worsening shipping industry outlook and intensifying competition to sell shipping firms could make it difficult for sellers to achieve their goals.
The Shanghai Containerized Freight Index, the world's most widely used trade index for sea freight rates, which had surpassed 5,100 in January last year, is set to fall below 900 later this week, amid a decrease in freight volumes in the aftermath of higher interest rates, inflation and the economic downturn.
Amid the negative sentiment, IMM Private Equity decided late last year to postpone the sale of Hyundai LNG Shipping, according to industry officials. The local PEF, which had hired Citigroup as the underwriter of the sale, is said to have failed to reach an agreement with potential buyers regarding the valuation of the shipping company.
Source: The Korea Times
shippingposition
Kindly like us on Facebook/twitter