Oluyinka Onigbinde
The Maritime Workers Union of Nigeria (MWUN) has said that 21,000 members from among the dockworkers branch and the Nigeria Port Authority (NPA) branch lost their jobs in the process of port concession.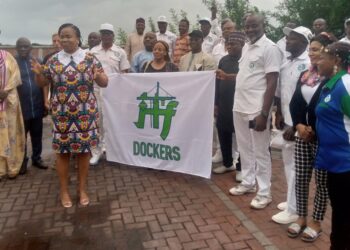 President General MWUN Comrade Adewale Adeyanju stated this in Lagos on Monday during an interactive session with top officials from the International Transport Workers Federation (ITF) from UK and three other affiliates from Kenya, Ghana and Liberia.
He consequently stressed the need for global standard in Collective Bargaining Agreement (CBA) process between employees and employers of labour.
While giving a breakdown of the job losses from the two branches, Adeyanju explained that 13,000 members from among the dock workers were disengaged from service, while 8,000 workers from the NPA were also laid-off in the process of port concession within the period.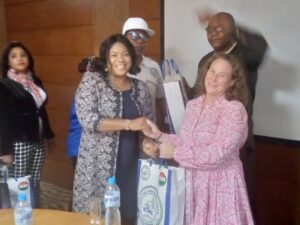 The President General further reiterated that disbanding on-board ship gangway security men and their replacement by non-statutory cargo surveyor personnel led to the high number of job losses by registered dockworkers.
He also maintained that the more than 8000 job losses by members of the Nigerian Ports Authority branch occurred during the same period.
The union leader said:"I have been asked to prepare a report on issues surrounding union challenges, strategies, privatisation of ports, organizing dock workers in the West Africa sub-continent and relations with APMT.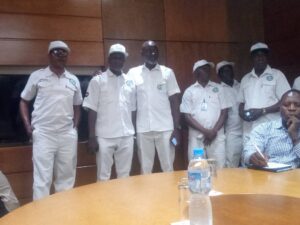 "As a union, challenges are numerous and because of time I respectfully ask your permission to list them as follows:" Loss of over 13000 jobs by dock workers, loss of over 8000 jobs by our members in the Nigerian Ports Authority in our ports administrators".
While highlighting further challenges of downsizing of to the workers in Nigerian seaports, Adeyanju told his foreign guests that, "he fizzling out of tally clerks, disbanding of on-board ship gangway security men and their replacement by non-statutory cargo surveyor personnel thus, led to loss of job by registered dock workers, indiscriminate work ethics in defiance of laid down procedure for working environment.
Responding, U.K representatives of ITF Comrade Enrico Totarlano assured the well-attended meeting by leaders of the docksworkers that the international federation will ensure the sacked employees are reinstated.
Totarlarno further clamoured for single global CBA workers adding that the cardinal point of the meeting should centre on effective communication among the four countries of labour unions before extending the moves to other maritime states.
Enrico called for another meeting in the first quarter of 2023, as part of efforts to strengthen the modalities on global standardisation of CBA for dockers.
Also speaking, Secretary ITF Africa representatives, Comrade Mohammed Safiano, stressed the need for women to seek elective positions in their respective unions noting that a seminar for female transport workers will be held soonest to train ,retrain and re- skilled them on effective leadership roles.
Kindly like us on Facebook/twitter