The Rivers State branch of Maritime Workers Union of Nigeria (MWUN) said that the union and the state government need a strong synergy to tackle rampant sea piracy and all forms of criminalities in the state's waterways.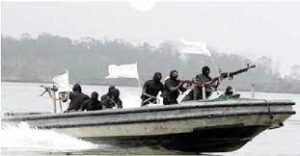 Chairman of the Branch, Comrade Jonah Jumbo, in an interview, noted that unlike in Lagos State, there was no synergy between the Rivers State Government and MWUN to curb piracy on the waterways.
"We need to work together to checkmate all forms of criminality, sea piracy and attacks on passenger boats in our waters", Jumbo said.
Comrade Jumbo insisted that the state government and the union were working in parallel lines, hence the high rate of piracy on the waterways.
Jumbo said, lack of synergy between the state and the union was having negative turns in its operations, thereby not improving marine transport business in the state.
The chairman said the union alone cannot solve the problem of insecurity in the waterways, hence the need for collaborations between the state government and other relevant authorities.
He further noted that Lagos State was doing well in marine transportation because there was a strong synergy between the state government and the union.
"Lagos state maritime business is improving every day with more fleets because the government, stakeholders and the union are working towards ensuring success", he said.
Kindly like us on Facebook