The Maritime Workers Union of Nigeria (MWUN) has threatened industrial action against the Nigeria Maritime Administration and Safety Agency (NIMASA) over non-issuance of biometric identity cards to dockworkers for the past 10 years.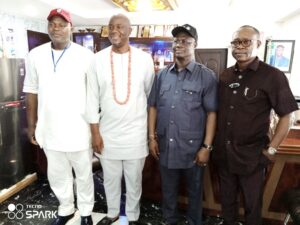 The President General of the MWUN, Comrade Adewale Adeyanju while speaking during the 5th quadrennial branch delegates conference, lamented that NIMASA for the past 10 years has failed in its promise to re-issue biometric identity cards to the dock workers, while adding that the refusal has brought embarrassment for the workers.
According to him "it is strange that a decade is gone and still counting, dock workers are yet to be reissued biometric identity cards as promised. As a union we have gone through all normal routes to get action on this matter, but there seems to be deliberate scheme put in place to deny our members this important identification as they are often embarrassed and mistaken for hoodlums because of lack of identity.
"Consequently, I wish to reiterate our demand that NIMASA should not renege on its over-a-decade promise to issue biometric identity card to dock workers to save them from incessant embarrassment of mistaken identity.
Meanwhile, speaking before his re-election as the NPA branch President of the union, Comrade Edward Ifeanyi Mazeli raised the alarm over the gradual extinction of junior staff employees in the agency.
Mazeli who has been re-elected for a second term, lamented that the numerical strength of members of union are dwindling daily, attributing the decline to promotions, retirements and death.
Mazeli also stressed the need for management of the NPA to employ more junior staff to boost the workforce.
In his words: "The numerical strength of our members are dwindling every day. This is a result of promotions, retirements and death which is a natural phenomenon.
"We wish to use this opportunity to once again appeal to our management to employ more junior workers to boost the workforce."
He further informed that hundreds of private jetties operating in the country are without the presence of workers of the NPA , stressing the need to reverse the trend for obvious reasons.
The branch President also urged the NPA and Nigeria Shippers' Council a sister agency under the Ministry of Transportation to engage importers and shipping companies to ensure that goods are shipped to the eastern seaports of the country.
"Also given the fact that Onitsha is the commercial hub in the South Eastern Nigeria, it makes it imperative for the development of Onitsha seaport to boost economic activities and create employment for Nigerians.
Mazeli also urged management of the NPA to reduce harbour due in the eastern seaports, as part of measures to stimulate greater patronage by shippers.
Meanwhile the event also witnessed the reelection of Comrade Tajudeen Ibrahim Ohize as the president of dock workers branch of the union