Navios Maritime Holdings (NYSE: $NM) has announced a definitive agreement to sell its 36-vessel drybulk fleet to sister company Navios Maritime Partners (NYSE: $NMM) for an aggregate consideration of approximately $835 million.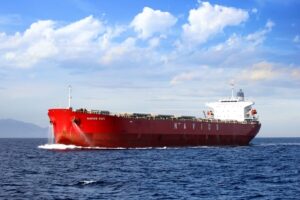 The sale price includes $441.6 million of bank liabilities, bareboat obligations and finance leasing obligations from Navios Holdings and is subject to debt and working capital adjustments.
The 36-vessel drybulk fleet consists of 26 owned and 10 chartered-in ships (all with purchase options) with a total capacity of 3.9 million dwt and an average age of 9.6 years.
The acquisition will increase Navios Partners' drybulk fleet by 67% and its overall fleet by 24%, to 188 ships. As a result, NMM will have the third largest drybulk fleet and the second largest fleet of all US publicly-traded companies, based on number of vessels.
Navios Partners said the addition of the "young, known, en-bloc fleet" comes at an "opportuned time" in the drybulk market, adding scale and rebalancing the company's segement exposure. Following the completion of the transaction, Navios Partners will own and operate a fleet of 90 drybulk vessels, 49 containerships and 49 tankers, including 22 newbuilding vessels to be delivered through the first quarter of 2025.
Based on certain assumptions, the acquired vessels are expected to generate approximately $164.0 million of estimated EBITDA for Navios Partners and $81.5 million of estimated free cash in 2023.
NMM will release Q2 earnings tomorrow before market open.
Both Navios Holdings and Navios Partners fall under the shipping empire of Greek-born Angeliki Frangou, who serves as Chairwoman and Chief Executive Officer of both companies. Over the past year and half, she has overseen Navios Partners' acquisition of both Navios Maritime Containers (ex-NMCI) and Navios Maritime Acquisition Company (ex-NNA), creating one of the largest and most diversified U.S.-listed shipping companies.
The closing of this latest transaction, which is still subject to customary closing conditions, will take place in in two tranches, the first involving the transfer of 15 vessels that will be completed on or about July 29, 2022. The second closing will the remaining 21 vessels and will be completed in the third quarter of 2022.
Kindly like us on Facebook/twitter