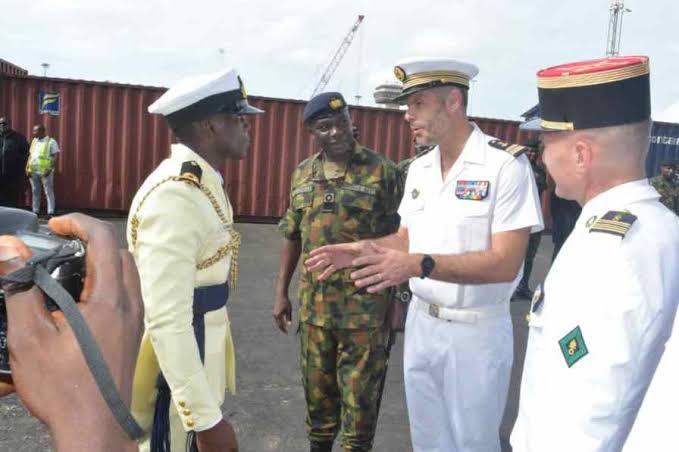 The Flag Officer Commanding (FOC) Western Naval Command, Rear Adm. Muhammed Abdullahi, has expressed satisfaction with the outcome of Exercise Crocodile Lift and Exercise Grand African Nemo, which held on Nigerian waters.
Abdullahi said this at the culmination of these combined exercises of the Nigerian Navy and the French Navy, which ended at Takwa Bay, Lagos State.
The exercise involved a simulated situation that involved the hijacking of hostages onboard a ship at sea with the two navies working together to rescue the hostages alive from the kidnappers den.
The combined exercises were flagged off on Oct. 9 by the Chief of the Naval Staff (CNS) Vice Adm. Emmanuel Ogalla at the Nigerian Navy Ship (NNS) BEECROFT, Apapa, and ended on Oct. 10.
Abdullahi said that the combined exercise was aimed at exercising the Nigerian Navy troops in collaboration with foreign partners.
"Ex Crocodile Lift is actually a French initiative that is organised to provide a sea lift which is aimed to achieve collaboration and also build capacity.
"The Nigerian Navy has the capacity to conduct the sea lift because NNS KADA has all the components to conduct this exercise independently.
"However, the collaboration with our foreign partners is to ensure that our maritime environment is safe and secure particularly the Gulf of Guinea and to exchange ideas," he said.
The FOC said that collaborating with the French Navy was to provide a platform to share experiences, build capacity and to see how both navies could learn from each other..
"The exercise is just another avenue to sharpen the abilities of our officers because the training is something that we have been doing regularly.
"The assets that were deployed during the exercise such as the ships, boats and helicopters all belong to Nigerian Navy.
"We were able to carryout insertions of our own troops and practicing with the French Navy gives room for foreign initiative and ideas that we find interesting," he said.
Abdullahi said that maritime crime came in different phases such as crude oil theft, illegal oil bunkering, piracy, sea robbery, hostage taking, Illegal Unreported and Unregulated Fishing (IUUF) among other crimes.
"Combating and preventing these crimes is not something that anybody has monopoly of.
"Piracy can come in different forms and when you are faced with that kind of challenge you deploy different tactics.
"The tactics that can work for one scenario maybe different from the one deployed for another scenario," he said.
The FOC said that it was possible that what the French Navy had experienced in terms of these challenges in this kind of criminalities might not be the type Nigeria was experiencing.
"However, it is the aggregate effect when we come together to share experiences, information on how to tackle these challenges that will make each country better.
"Exercises like this is a stepping stone, the next one is going to be more elaborate and maybe take longer time where we can come up with different scenarios.
"This concluded exercise only had one scenario where we had a hostage taking and then deployed our assets with some tactical maneuver to ensure that we rescue the hostages alive," he said.
Abdullahi said that France had always been our partners, adding that Nigeria through her foreign policies had always been opened to friendly forces and people that would cooperate to achieve common objectives.
"The British Navy recently came on port call. We have similar exercises but not of this magnitude.
"Shortly before then, a Brazilian Ship came on board and so many other countries have been coming to partner with us.
"The whole idea is to secure the maritime environment for economic prosperity of our own country," the FOC said.
He added that the security of our maritime environment was at top notch because we had not recorded any major pirate incidence since 2021.
"Nigeria has also been delisted from the countries prone to having that kind of challenge.
"So, we are making tremendous progress , which is not unconnected with the tactics that we have adopted to secure our maritime environment for businesses to thrive inline with the vision of the CNS," Abdullahi said.
Also speaking , Col. Guillaume Dujon, the French Defense Attachè to Nigeria , said that the interaction between the two navies was laudable.
"This great interaction with the Nigerian Navy is good especially with one of our French ships at the Gulf of Guinea also extending cooperation for the control of the maritime domain.
"We also share our experience in maritime security with the assets we have at the moment," he said.
Dujon said that the relationship between the two navies had been cordial since Ex Grand African Nemo,  which was a multilateral exercise held every year with some coastal state of Guinea.
"However, Ex Crocodile Lift is a bilateral exercise in itself and it is interesting to interact on a new area, which is an amphibious warfare that is very specific.
"Nigeria is the first coastal state in Western Africa to develop such capability and I am very impressed and appreciate what the nation has achieved so far," he said.
The colonel said that in March, the bilateral relationship between the Nigerian Navy and French Navy yielded good result when both navies intervened to ensure that a hijacked tanker, MONJASA REFORMER was secured.
"So, it is important to ensure the security of the maritime domain especially at the Gulf of Guinea because of promoting international trade, regional security among other benefits.
"It is very important that we get to know the navies and to know how to interact with them," Dujon said