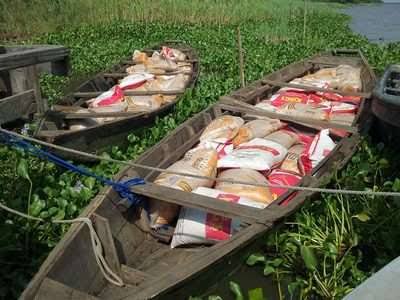 The Nigerian Navy, Forward Operating Base (FOB) Ibaka, in Mbo Local Government Area of Akwa Ibom says it has nabbed five suspects and impounded a wooden boat together with 18 bags of rice in the state.
The Commanding Officer (FOB) Capt. Uche Aneke, disclosed this to the News Agency of Nigeria (NAN) in Ibaka when he handed over the suspects and bags of rice to Nigeria Custom Service (NCS) in Ibaka on Friday.
Aneke noted that the suspects were arrested around 6:20 p.m. on Thursday.
He said the Nigerian Navy (FOB), Ibaka received intelligence regarding suspected smuggling activities within the area of operation.
Aneke explained that the intelligence indicated that a boat was conveying some foreign parboiled rice suspected to have been smuggled from Cameroon to Nigeria and transiting within the waters under FOB, Ibaka Area of  Operation.
"Yesterday, we were able to intercept a wooden boat carrying 18 bags of parboiled rice that are countraband items and they were concealed under 600 baskets of Tomatoes.
"Today, we are handing them to Nigeria Custom Service (NCS) for further investigation and presecution.
"Under the current leadership of Chief of Naval Staff, Vice Admiral Emmanuel Ogalla, criminal activities will not be tolerated on Nigerian waters.
"We will continue to frustrate their efforts," Aneke said.
He urged officers and rating to continue to sustain the pressure, to deny any of the criminal individuals or groups further freedom of actions, for our national development to continue to be sustained on Nigerian waters.
Aneke said that "FOB Ibaka under Eastern Naval Command will continue to detect you with our advanced surveillance equipment, apprehend you, and ensure your arrest and prosecution".
He warned criminal elements that Nigerian waters and the coastal areas were not safe for illegal activities.
Handing over the suspects and contraband to NCS, Superintendent of Custom, Kikems Danbana, thanked the Nigerian Navy, especially FOB, Ibaka for the synergy going on between Navy and Joint Boarder Patrol Team Sector 1.
"We wish that the synergy will continue in due time," Danbana said.
He said that the suspects and the contraband would be taken to Calabar for further action.