The Nigerian Navy Primary School, Mobil Road, Apapa, Lagos, last Friday graduated 76 of its pupils after preparing them for challenges that they may encounter in secondary school.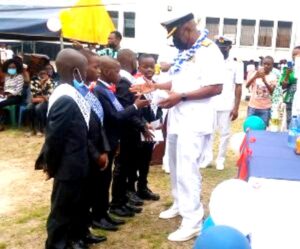 Commodore Bashir Mohammed, Commander, Nigerian Navy Ship (NNS) BEECROFT, said at the occasion that he was delighted that the event took place in spite of the constraint occasioned by the COVID-19 pandemic.
"To our graduands, I must say that your teachers have tried their best to prepare you for the challenges you will meet in secondary school.
"It is now your responsibility when you go to secondary school to make us and your parents proud.
"It is, therefore, deserving that I commend the resilience, hard work and endurance of the teachers and students in organising this graduation ceremony," he said.
The commander said that the pupils had gained immensely from the school because they had been subjected to various classroom activities including early and late lessons.
"I, therefore, join you in thanking the Almighty God for making it possible for us to witness this day.
"I specially acknowledge and appreciate the sacrifices of your parents in providing all you need to study.
"My sincere appreciation also goes to the head teacher and other teachers who worked tirelessly to make your tomorrow better," Mohammed said.
In his address of welcome, Nkama said that the school was graduating a set of intelligent pupils who would be future leaders.
"I congratulate these pupils for achieving this feat and I advise them to always uphold the path of intellectual excellence, discipline, loyalty and obedience that the school has taken them through.
"Remember to be good ambassadors of this noble school," the head teacher said.
He praised teachers in the school for hard work and efforts in ensuring that extra curriculum activities provided by the school were completed.
Nkama noted Mohammed organised an inter-debate and inter-quiz competitions in August among the three navy primary schools in Lagos State.
"I am pleased to announce to you that our school came first in the competition," the head teacher said.
The Head Boy of the school, Master Emmanuel Bandi, said that he saw the school as his second home because he related well with the staff and pupils.
"We all believe that this school has prepared us adequately for the challenges that may come our way, and we are most grateful for this.
"We are proud of our school and we promise to uphold all the qualities bestowed on us as we transcend to the next phase of our lives," Bandi said.
Kindly like us on Facebook