Owendo Inner Anchorage, Gabon
Five persons in a speed boat armed with guns approached, fired upon and boarded an anchored offshore supply ship. Alarm raised and crew secured themselves in the ship. Two crew were injured due to the firing and required hospitalization. One crew reported missing. Remaining crew reported safe. Local authorities notified.
Tema Anchorage, Ghana.
Duty AB onboard an anchored bulk carrier noticed six robbers in a small boat approaching and immediately informed the OOW. Alarm raised and ship's whistle sounded. The boat came alongside and attempted to throw a hook attached with a rope. The duty AB kept shouting at the persons who circled the ship and then moved away. Incident reported to the port control.
Filipino crew killed by mooring line, Italy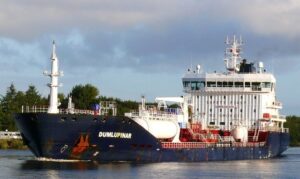 A 54-year old Filipino crew of product tanker MELIGUNIS M died on the spot on board of tanker after he was hit by broken mooring line on Sep 7 at Livorno, Italy. Tanker was in process of unmooring, but after tragic accident, she was obviously, detained, for investigation.
Container ship adrift, abandoned after being off radar for 3 weeks
The ship is still adrift, but seems to be under control, doesn't look like abandoned. AIS is on, new information appeared – port of destination Lae, ETA Sep 7. Abandonment navigational alert was cancelled.
Container ship GAZELLE COAST reported disabled and adrift, abandoned, in Vityaz Strait separating PNG and New Britain island, in the morning Sept 6. Ship's AIS is on, latest position time 0620 UTC Sep 6, ship is adrift. Interestingly, ship's AIS was off from middle Aug until Sep 6, so as of now, it's one more mystery.
MSC mega container ship reportedly on fire off South Africa coast UPDATE
Container ship MSC KATRINA said to be on fire on Sep 9, SW of Port Elizabeth, South Africa. The ship was NUC, adrift since morning Sep 9, later she seemed to be taken on tow by SAR tug SA AMANDLA, caravan moving towards Port Elizabeth. MSC KATRINA is en route from Lome Togo to Durban South Africa. No other information available at the moment, awaiting updates, confirmation of fire alert.
Sep 10 morning UPDATE: towage under way, caravan sailing through head wind storm, destination Durban with ETA Sep 16, but probably caravan will have to shelter in Port Elizabeth area. Best guess is, MSC KATRINA suffered fire (probably preceded by explosion, as is it the most recurrent accident in such cases).
LPG tanker explosion, Brazil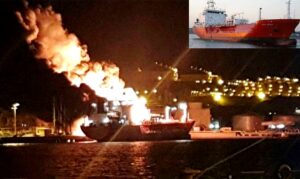 LPG tanker FORTE DE SAO MARCOS, docked at Porto de Aratu, Bahia State, Brazil, suffered explosion in one of cargo tanks at around noon LT Sep 9. Explosion was followed by a lot of white smoke billowing from ship's cargo area. Understood there was no fire, no injuries reported so far, extent of damages unknown. Naval Inspection team said there was only one explosion occurred during tank's degassing procedures, and there is no risk of new explosions.
UPDATE: There was fire after explosion, quickly extinguished by crew.
Panamax bulk carrier troubled in Suez Canal
Bulk carrier CORAL CRYSTAL reportedly encountered mechanical issue while transiting Suez Canal in southern direction, en route from Constanta Romania to Port Sudan, Sudan. Bulk carrier was disabled at around 0925 UTC Sep 9 near kilometer 53 mark, but was quickly taken under control by Canal's tugs, and continued transit. She reached Great Bitter Lake at around 1300 UTC, looking like she's sailing under own power. As of 1330 UTC, she was sailing in Great Bitter Lake at some 12 knots speed. Traffic said to be not affected.
UPDATE: There was a short-time grounding, caused understood, by mechanical issue. Short-term grounding generated long-term jubilation in mainstream media.
Kindly like us on Facebook