The Nigerian Content Development and Monitoring Board (NCDMB) has charged the Oil and Gas Trainers Association of Nigeria (OGTAN) on identification of niche areas in the industry with high employment opportunities.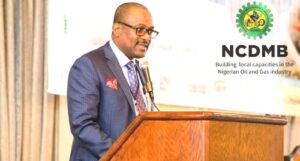 This is contained in a statement posted on the NCDMB's website recently.
The statement said the board's Executive Secretary, Mr Simbi Wabote, gave the charge when he received the new leadership of OGTAN at his office in Yenagoa, Bayelsa State.
Wabote noted that the oil industry trainers' body recorded significant achievements under the immediate past President, Dr Mayowa Afe, and challenged the new leadership on continuous improvements and new goals.
He said one of the focus areas was the categorisation of members according to their capacities and certifications.
Wabote said the exercise was a precondition before the board would consider making it mandatory for companies that seek to offer training services in the oil and gas industry to belong to the OGTAN.
He said: "OGTAN should conduct gap analysis in the industry and come up with the niche areas. It is your competitive advantage.
"We want information on those types of trainings where there is 60 per cent assurance of jobs in the oil and gas industry."
He explained that the NCDMB's strategy for capacity building was hinged on the 60-20-20 principle.
The executive secretary said 60 per cent of training programmes and budget was dedicated to skills sets that guarantee employment in the oil industry.
He said 20 per cent was set aside for the improvement of the skills of persons already employed, and 20 per cent to soft skills and other general areas.
Earlier, the new OGTAN President, Chief Sam Onyechi, explained that the purpose of the visit was to introduce the new executive of the association to the NCDMB management.
Onyechi said OGTAN had embarked on strategic transformation anchored on categorisation, certification, compliance, collaboration, competence, curriculum, and cost competitiveness.
He said the plan of the group was to promote the trainings of Nigerians in strategic areas that have huge employment opportunities.
Onyechi said: "There are low hanging fruits that can mop up many unemployed Nigerians. They can acquire AP certifications and other relevant certifications and work anywhere in the world.
"There are opportunities that exist in the oil and gas industry which are not being harnessed. We want to partner the NCDMB to train Nigerians on those areas.
"We can help Nigerian graduates and even non-graduates acquire those skills and international certifications that would enable them work anywhere in this world.
"We intend to bring those opportunities to the limelight and emphasise that skill is a global currency.
"There are certain certifications, even short courses that one can take within one to three months and get certified internationally."