The National Drug Law Enforcement Agency (NDLEA) on Tuesday day decorated the Association of Nigeria Licensed Agents (ANLCA) as an Ambassador for War Against Drug Abuse (WADA).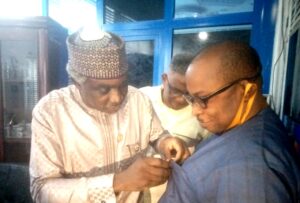 Speaking at the ceremony, the Chairman, Chief Executive of the NDLEA, Brig. Gen.Buba Marwa (rtd), described ANLCA as an association that has zero tolerance for drug abuse in the country.
Marwa who was represented by the Apapa Port Area Commander, Mr. Samuel Gadzama, informed that ANLCA has over the years proven to be a body that frowns against anything illegal and has proven to be a major stakeholder in the fight against drug abuse.
He said: "I have the consent and authority of the Chairman of NDLEA in person of Buba Marwa to be here, because ANLCA is not just anybody, but a major stakeholder in port operations. I have also been able to observe that in the last three years of me been in the port, ANLCA has proven to be a body that has zero tolerance, as a body you have zero tolerance for anything illegal, so it is the totality of our observation that made us come here today".
"Because for you to have been following the activities of NDLEA and commending us, it shows that you have interest in what we are doing. If we are not doing well, I know you will say so, and if we are doing well you will also say so, I don't believe that you are under influence of anybody as a body, so I want to thank you and bring the goodwill message of my Chairman to this very active and very productive partner that is valuable to us and our operations" he said.
Speaking earlier, the President of the Association; Mr Tony Iju Nwabinike, who was represented by the Vice President of the association, Mr Kayode Farinto, commended the agency for constant interception and arrest of illicit drugs into the country.
Farinto further noted that, in the last few months the modus operandi of the agency have changed, urging NDLEA to continue in its drive in sensitizing freight forwarders and general public against the use of drugs".
Farinto also urged the NDLEA to rejig its officials at the port, lamenting that ANLCA members have on several occasions lamented illegal interception of containers at the port by NDLEA officials
The Vice President ANLCA also asked the NDLEA commander to help maintain trade facilitation in the country.
Read Also:  SIFAX Group Pledges To Support Youth Entrepreneurship Through Next Titan
Farinto also suggested that it was high time the agency began to look inwards regarding training of local dogs that will help the agency in its day to day activities.
He informed that money spent on keeping foreign dogs are not the same as money that will spend on training local dogs, he poised that local dogs are more sensitive to detect than the foreign dogs.
In his response, Gadzama noted that the constant interception of containers at the port is as a result of drug peddlers and money Launderers, who now thrive through the use of Tokunbo vehicles to bring in their illicit transactions, Gadzama informed that drug dealers now use this method to evade arrest by security agencies in the port.
Speaking on training of sniffers dog, the NDLEA representative informed that the agency has started working on the training local dogs in the spirit of promoting ease of doing business
Kindly like us on Facebook