Stakeholders in the global shipping industry have adopted new amendments to Maritime Labour Convention (MLC 2006) aimed at improving the living and working conditions of seafarers.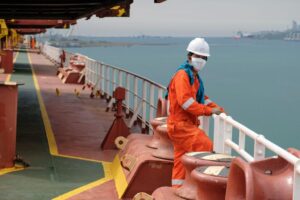 The amendments, eight in total, were adopted during a meeting of the International Labor Organization's (ILO) Special Tripartite Committee in Geneva, Switzerland last week.
The MLC 2006, often referred to as the "Seafarers Bill of Rights", is an ILO convention designed to protect seafarers' rights and uphold minimum living and working standards. First entering into force in 2013, the convention has now been ratified by more than 100 countries representing over 90% of the world fleet.
The new amendments were adopted against the backdrop of the pandemic-driven crew change crisis, which at its peak impacted an estimated 400,000 seafarers, as well as current seafarer crisis in Ukrainian ports and the Sea of Azov amid Russia's war on Ukraine.
The amendments, which draw on lessons learned during the COVID-19 pandemic, include things like bolstering legal requirements for seafarers to be able to access medical care ashore and strengthening health and safety PPE policies on board ships to protect against accidents. Another amendment includes the right to mandatory social connectivity for crews –including internet access, which was praised by the International Transport Workers' Federation.
"Working for long periods at sea can be isolating. And a lack of contact with the outside world can have profound implications for seafarers' wellbeing — which we saw the worst effects of during Covid," said Mark Dickinson vice chair of the ITF Seafarers' section. "Being able to keep in touch with family and friends isn't just a nice-to-have, it's a basic human right. That's why we fought so hard for seafarers to be given internet access and to have a mandatory provision in the MLC."
However, the ITF also expressed dissapointment that shipowners and governments may seek to charge for internet access, and lobbied to ensure that any charges levied on seafarers remain an exception or are at least reasonable. Governments were also encouraged to increase internet access in ports and associated anchorages without cost to seafarers.
Other amendments included things like mandating the availability of free and good quality drinking water, prompt repatriation of abandoned seafarers by States, and mandating that all deaths of seafarers are recorded and reported annually to the ILO.
"These were very intense negotiations, but we are extremely pleased that all sides of this global tripartite structure ultimately agreed on new policies that are fit for purpose, and which put into practice some of the practical lessons that must be learned from COVID-19," said Max Johns, a spokesperson for the Shipowner Group at the ILO meeting.
In addition to the amendments, the Special Tripartite Committee adopted a number of resolutions related to bullying and harassment of seafarers, including sexual assault and sexual harassment; the financial security system to protect seafarers in cases of abandonment and the need to adopt measures to ensure that all seafarers have adequate means of contractual redress against shipowners.
"Though this is a great starting point, further reforms at a global level are necessary to ensure that the shipping community is better prepared and coordinated to address future shocks, including and beyond a pandemic," commented Natalie Shaw, International Chamber of Shipping Director of Employment Affairs. "We are pleased with the success of these negotiations, but now we must map out what more can be done. ICS will work to ensure that the improved cooperation between states, ship owners, and workers remains, for the betterment of the whole maritime sector and the movement of global trade."
The new amendments are expected to be presented for approval during the next session of the ILO International Labour Conference, which will be held later this month and into June. If approved, they should enter into force by December 2024.
Also, during last week's Special Tripartite Committee meeting, governments reiterated their support for the ILO resolution calling for the swift and safe disembarkation and repatriation of the 500 remaining trapped seafarers in Ukraine, and called for the prompt delivery of critical supplies, such as food, water, and medicines to these key global workers caught in the conflict zone.
Kindly like us on Facebook