Nigeria has called for urgent action to end terrorism, piracy and trafficking along the African Atlantic coast.
Foreign Affairs Minister Geoffrey Onyeama made the call while stating Nigeria's position at the First Ministerial Conference of African Atlantic States in Rabat, Morocco.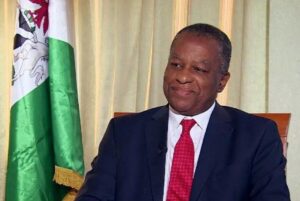 The minister, also a lead presenter of the decisions of African countries on "Political Dialogue, Security and Safety", said the spread of terrorism, drugs and piracy were threats to be contained.
He urged all African countries bordering the Atlantic to collaborate to stem maritime threats for better economic development of the region.
"Piracy and the spread of terrorism are urgent and immediate threats to be addressed on African Atlantic shores; these are the challenges facing our region.
"There are, however, different national approaches on maritime security which ECOWAS and the G7 have engaged in.
"These efforts are not just around the Atlantic but also the Gulf of Guinea; Atlantic countries must come together to do more," he said.
Onyeama said that concerted efforts at capacity building and experience sharing among Atlantic member countries would result in the implementation of customised solutions to the region.
Earlier in his address, the Minister of Foreign Affairs, African Cooperation and Moroccan Expatriates, Mr Nasser Bourita, said the King of Morocco, Mohammed VI, called for a relaunch of the African Atlantic collaboration for peace and prosperity.
He said that climate vulnerability and food security had displaced over 1.5million people around the coast of West Africa.
"The collaboration of African Atlantic Countries will ensure sustainable development and prosperity.
"We must come together to restructure the African Atlantic space.
"The declaration to be achieved after this conference must be action-oriented, inclusive and should enable Africa to take ownership; let it be what unites us,"Bourita said.
Nigeria is one of the 23 African Countries bordering the Atlantic Ocean.
Others are: Morocco, Mauritania, Senegal, Gambia, Cape Verde, Guinea, Guinea Bissau, Sierra Leone, Liberia, Côte d'Ivoire, Ghana, Togo, Benin and Cameroon.
Also, Sao Tome and Principe, Equatorial Guinea, Gabon, Congo, Democratic Republic of the Congo, Angola, Namibia and South Africa.
The countries linked by this ocean are home to more than half of the African population.
They account for 55 per cent of Africa's Gross Domestic Product (GDP) and 57 per cent of continental trade.
Kindly like us on Facebook