The Nigeria Customs Service (NCS) on Tuesday decorated 68 of its newly promoted officers in Seme Area Command with their new ranks.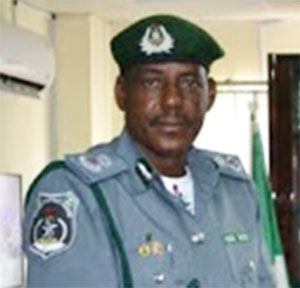 Addressing the newly promoted officers at Seme border post, Lagos State, the Customs Area Controller, Comptroller Bello Jibo, said promotion comes from Almighty but with additional responsibilities.
According to Jibo, promotion improves the morale of officers, stimulates efficiency and provides advancement to deserving officers.
"This is a change of job description, what you were doing yesterday is different from what you will be doing again.
"You have moved, progressed; if you have a dream, you can go to higher level.
"Now, you have to prove to the management that you are capable of that new rank and let the service know that you merit the rank.
"Though promotion comes from God, when you are uplifted, it means that they want you to show more commitments to the service," he said.
The controller urged the newly promoted officers to know that this meant additional responsibilities.
"Put in your best to the service by adding value to human existence.
"For those that are not promoted, it does not mean the newly promoted officers are better than you. Promotion comes from God.
"Almighty chooses those he wants to elevate. If you don't get it today, it does not mean that you won't get tomorrow," he said.
The Customs Public Relations Officer (CPRO) Seme Command being decorated with his new rank on Tuesday.
He prayed to God to give the newly promoted officers wisdom to deliver in their new assignments.
Also speaking, Mr R A Ogungbayi, the Officer in Charge of Port Health Services (PHS) Seme border post, said that the promotion was another feather to their caps.
Ogungbayi urged them to know that with their new ranks, Nigerians would be demanding more responsibility from them.
He urged them to put in more efforts in the discharge of their duties than before.
Mr Ekpenyong Nkute, newly promoted Chief Superintendent of Customs, said he was grateful to God and the Comptroller General of Customs, retired Col. Ahmed Alli, for promoting him.
Nkute urged officers that were not promoted to be diligent and prayerful in the way they carry out their duties.
Mr Hussain Abdulahi, the Spokesman for Seme border Command also thanked the management of the service for promoting him to the new rank of Deputy Superintendent of Customs (DSC).
He promised to use his new position to combat smuggling of contraband into the country and also promote the image of the service in Seme area command.
Kindly like us on Facebook