The Rector of the Maritime Academy of Nigeria, MAN, Oron, Commodore Duja Effedua (rtd), said that Nigeria lost about N329.5 billion to maritime crimes in 2017.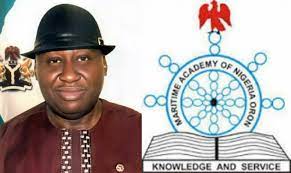 Speaking at the just-concluded Chartered Institute of Transport Administration of Nigeria, CIOTA, Conference which held in Abuja, Commodore Effedua said that Nigeria paid so mush to criminal activities of pirates in the GoG, informing that Nigeria paid ha paltry sum of 4.5million dollar.
Effedua also said that the failure of security agencies to share real time intelligence as a major source of draw backin the fight against maritime crimes.
He added that the economic cost of maritime affects Nigerian more than other countries in the Gulf of Guinea.
He however opined that with the establishment of the Integrated Security and waterways protection infrastructure otherwise known as the Deep Blue project, it is hoped that the excesses of these criminal element on the nation's coastal and territorial waters will curtailed.
He stated; '´A safe marine environment prepares the oceans for a secured atmosphere for maritime trade. Criminal elements have been reported to use wrecks as safe haven to launch surprise attacks on merchant vessels.
He also called on the leadership of the CIOTA to brace to the duty of drawing the attention of relevant authorities to the need to entrench global best practicers in the implementation of the maritime safety laws.
''Maritime in the Gulf of Guinea region comes at a very high cost of N329billion about 793.7million when compared to Asia, which was estimated at N1.8billion IN 2016.
This year's summit provides the opportunity to amplify the meesage concerning the need to for the regulatory authorities to strengthen the regulatory powers of the Port State Control, PSC Inspection aas the last line of protective layer against sun-standard shipping in our waters.
"It is rather disheartening that the regulatory framework to assure the safety of operations on our internal waters is still evolving as evident from incessant reports of boat mishaps in the inland waterways in recent time"
Kindly like us on Facebook