Oluyinka Onigbinde
Transportation experts in the country have blamed the poor construction of Nigeria roads as a factor responsible for over 80 percent of truck and tanker accidents in the country.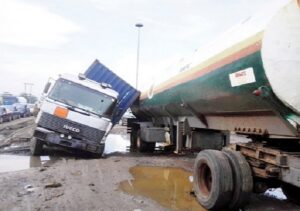 Speaking during a panel session on Wednesday during the 4th National Transport Summit of the Chartered Institute of Transport Administration (CIoTA) of Nigeria, the stakeholders lamented that Nigeria roads are poorly-constructed causing major accidents in the country.
The stakeholders further informed that about 87 percent of Nigerians roads have expired while noting that the United Nations has described the Nigerian roads as a deliberate act of the government to kill its own people.
Speaking on the state of Nigerian roads, Dr. Taiwo Salaam a lecturer at the School of Transport and Logistics, Lagos State University (LASU) lamented that 87 percent of Nigerians roads are expired.
He urged that there is need for the Ministry of Works to ensure that Nigeria roads are constructed in a way that will make our roads accident-free. He also said that there should be synergy between the road management, Ministry of Works, Ministry of Transportation and others to make sure the roads are safe for users.
Speaking also, Dr. Kayode Opeifa, Board member Nigerian Railway Corporation (NRC), also lamented that the way roads are constructed in the country are not safe.
He said Nigeria roads are bent and without road signs informing that most of the falling tankers we have on our roads is as a result of the comatose states of the roads.
He pointed out the Otedola Bridge and the Ojuelegba Bridge, both in Lagos, as part of the death traps in the country.
Speaking also, Dr. Mrs Anthonia Ekpa, former Permanent Secretary Federal Ministry of Special Duties and Inter-governmental Affairs, Abuja said there is need for collaboration, synergy with every units of the Ministry of Transportation, she said the ministries, especially at the state levels and the ministry of works and ministry of health at the state level need to come together yo work together as a team.
She questioned how many offenders have been arrested and prosecuted as a result of disobedience to regulations.
She further alleged that at the United Nations level Nigeria is recognised as one country that kills its people deliberately.
She said: "How many people have been arrested, how many people have been jailed, and Nigerians are aware of these regulations, i am not talking about one, there are dozens of these regulations and each is carefully crafted where are the implementation and then.
"There is need for collaboration, synergy with each and every unit, the ministry of transportation especially at the state level and the ministry of works and ministry of health at the state level, they need to come together but who will enlighten them about the collaboration that is ought to be in a team.
"And every day we are talking of people dying on the roads, between Calabar and Port Harcourt, Nigeria has lost five professors on that road because the road is totally unusable.
"So you ask yourself where are the regulations, where are the policies, so now the Road Safety, VIO and all the other states interventionist including stakeholders needs to come together to resolve this.
"And at the United Nations level, Nigeria is recognized as one country that kills its people deliberately.
"I was talking to somebody who is on the experts group on road signs and signals and I am also a member in Geneva, Switzerland, but we don't have roads signs in Nigeria and very respectfully, we need to think of an institution for road signs in Nigeria, why are there no road signs on the roads and how many drivers knows what road signs are" she questioned.
Speaking earlier, the Acting Corp Marshal of the FRSC; Dauda Biu who was represented by Jonas Agwu, Assistant Corp Marshal for Command and Strategy at the FRSC Headquarters said government alone cannot bear the burden of ensuring road safety because of funds needed to achieve efficient crash management.
He pointed distracted driving as a major concern and other forms of non-compliance on the roads.
He added that speed limiting device which will prevent vehicles from running above 100 kilometres per hour to achieve lesser impact in the event of crash.
He informed that a total of 57 Ambulance Service Centers have been established by FRSC to address post-crash rescue needs across the country.
shippingposition
Kindly like us on Facebook/twitter