The Nigerian Maritime Administration and Safety Agency (NIMASA) says the Nigerian Institute of International Affairs (NIIA) has crucial role to play for Nigeria to fully harness blue economy potential.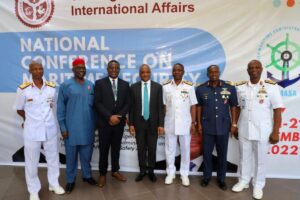 The Director-General of NIMASA, Dr Bashir Jamoh, said this in a statement on Wednesday in Lagos.
Jamoh said this while delivering a paper titled: "Opportunities and Challenges in Harnessing the Blue Economy," at a seminar organised by the NIIA.
It had the theme: "Safety, Security and Development in Nigeria's Maritime Domain: Problems, Strategies and Prospects."
The blue economy is the sustainable use of ocean resources for economic growth, improved livelihoods, and jobs while preserving the health of ocean ecosystem.
Jamoh said that collaboration among government agencies and the organised private sector would accelerate the gains of the blue economy in Nigeria.
He noted that the successes of the Deep Blue Project was hinged on collaboration.
"Our task at NIMASA is to explore how Nigeria can maximise the benefits derivable from our Blue economy.
"This concept of blue economy which gained prominence some few years ago requires local, regional and international collaborations to manage critical factors.
"The Nigerian Institute of International Affairs should play a role in advising government on policies which will facilitate the realisation of the blue economy," he said.
Jamoh noted that just as in maritime security, the Deep Blue project, had shown that through cooperation and collaboration, great results could be achieved.
"This is the reason why I appreciate the participation of the Economic and Financial Crimes Commission and the Nigeria Customs Service as well as the Nigerian Navy," he said.
On his part, the Director-General of the NIIA, Prof. Eghosa Osaghae, while acknowledging the progress made in securing the Nigerian maritime domain and the Gulf of Guinea, highlighted the importance of the blue economy globally.
Osaghae called for sustainable use of ocean resources to be considered when shaping government policies.
"When considered in economic terms, the global Blue Economy will be the seventh largest in the world which highlights its importance.
"As such, sustainable use of the blue economy for economic growth should be at the core of any policy formulation by government," he said.
The Nigeria Institute of International Affairs (NIIA) is Africa's foremost foreign policy think tank with the goal of assisting governments and societies in creating a world that is secured and prosperous.
shippingposition
Kindly like us on Facebook/twitter