The Nigeria Port Authority (NPA) has completed the rehabilitation of its headquarters that was set on fire by hoodlums during the EndSARS protest on October 21 2020.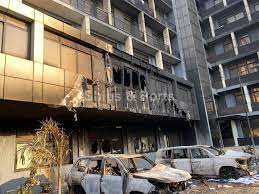 Recall that the agency had announced in November last year that the building would be ready in nine months after valuation by estate valuers and insurance companies.
However, checks by our correspondent revealed that the building is ready, even though some of the staff still operate from the Kontagora House in Marina, while others operated still partly from home.
Our correspondent who visited the headquarters last week, confirmed that the rehabilitated buildings were already fitted with systems and some other electrical appliances.
When contacted to ascertain why staff of the authority were yet to move in, the Assistant General Manager Corporate and Strategic planning, Mr. Nasiru Ibrahim confirmed that work has been completed, but noted that the staff will move soon after every other petty works have been completed.
Recall that hoodlums had taken advantage of the EndSARS protest to torch and vandalise several vehicles belonging to the agency and some members of staff. They, thereafter set a wing of the office building on fire.
A total of 27 vehicles, including cars, utility vehicles, pick-up vans and staff buses were torched while 33 other vehicles, 22 of which belong to members of staff, were vandalised.
The immediate past Managing Director of Nigerian Ports Authority (NPA), Hadiza Bala-Usman, during the agency's 2021 budget defence before the Senate Committee on Marine Transport had informed that the agency earmarked N807 million for the rehabilitation of the portion of the building that was burnt.
She has said the N807 million was different from monies to be spent on replacement of 27 vehicles set ablaze by hoodlums and the three stolen during the violence.
"These vehicles, being operational ones, need to be replaced as soon as insurance companies come up with the aspect of losses to be shouldered.
"Aside burnt building and vehicles, other working tools like 317 computers were looted as well as photocopiers.
"Cost of replacement will be above a billion naira when added to the N807million already estimated for rehabilitation of the burnt building," she had said.
Kindly like us on Facebook