Nigeria Security and Civil Defence Corps (NSCDC) says it has recovered 21,600 litres of Premium Motor Spirit (PMS) known as petrol from pipeline vandals in Badagry, Lagos State.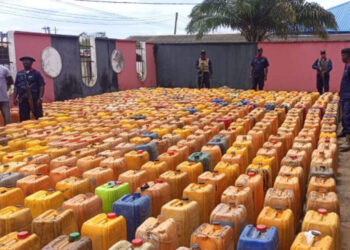 Mr Emeka Okoro, the Commandant, Lagos Command, NSCDC, said this during a visit to Badagry Command on Thursday.
"We are here today as part of our statutory duty to make a parade of some recoveries we just made through our anti-vandal and marine unit of NSCDC Badagry command.
"The officers of the command, on routine surveillance and patrol, on Tuesday, Sept. 27 at about 11: 45 p.m. intercepted and recovered about 720, 30 litres jerrycans of petrol along Yafin creek, Badagry.
"The products were kept in batches, by yet to be identified suspected oil vandals, with the motive to reload them all into a boat and proceed on their journey to Republic of Benin
"We found it to be an act of sabotage to the economy; this is petrol on which the government has paid lots of subsidies. The value of the 21,600 litres is not less than N4 million," he said.
Okorie said NSCDC was saddled with the responsibility of bringing in all the saboteurs to book, adding that the corps would not relent in its efforts to trap the saboteurs.
Mr Akinyemi Ayodeji, the Divisional Officer, Badagry Division, reaffirmed the command's commitment to ensuring excellent performance towards fulfilling the mandate of the corps in Badagry and Lagos.
"We are trying to put an end to the sabotage of Nigeria's economy, we are working day and night.
"The more they see us on our regular duty they will be discouraged from the illegal business.
"So, it's just a matter of time. Arrest in Badagry has not been like this before; they will one way or the other be deterred and anyone caught will face the court and will be sentenced," he said.
Kindly like us on Facebook/twitter