The Nigeria Security and Civil Defence Corps (NSCDC) has uncovered an expansive illegal refining site at Otamiri-Etche, near Port Harcourt.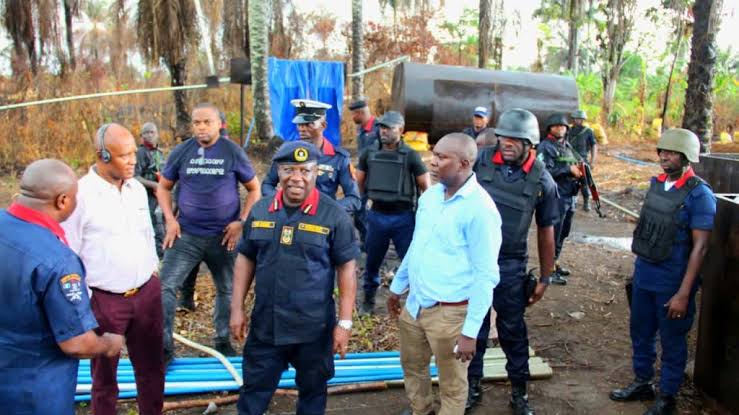 NSCDC Commandant in Rivers, Michael Ogar took newsmen to the illegal refinery where the oil thieves refined stolen crude into various petroleum products for sale to the unsuspecting public.
He said the illegal refinery was sophisticatedly and covertly constructed in a manner that no one could ever suspect the presence of such an illicit facility in Etche town.
"The well fabricated illegal refinery with a wide range of pipes spread across an expansive land mass.
"I must confess that this is my first time of witnessing such a well fabricated illegal refinery which shows that bunkers have adopted a new strategy.
"If not for the eagle eye of the command and our sustained intelligence gathering from our informants, it would have been difficult to detect this bunkering site," he said.
Ogar said in spite of the destruction of many of such refineries and arrests made by the NSCDC and other security outfits, criminals still continued with the illicit business.
"The operators of the illegal bunkering site tapped into a pipeline belonging to Heirs Holding Oil and Gas through its pipeline bulk delivery.
"They (oil thieves) syphoned crude oil from the Heirs Holding pipeline through carefully constructed pipes into their illegal refinery.
"We have commenced intense investigation into this matter, considering that someone must have given out this expansive land to the owners of the site," he added.
He said that the corps personnel were on the trail of the owner of the land, to unravel the identities of the operators of the refinery.
The NSCDC commandant said the corps had been given a clear mandate to safeguard critical national assets and infrastructure across the country.
"So, we will not be deterred by the activities of criminals. We will go after them and ensure that their illegal dealing in petroleum products is reduced drastically to boost the economy.
"So, Heirs Company will extract the stolen crude oil back to their facility while our operatives will continue to chase the criminals until they are brought to book," he said.
Ogar warned operators of illegal refineries and pipeline vandals to either relocate from the state or be arrested and prosecuted.
shippingposition
Kindly like us on Facebook/twitter