By Joshua Yousouph
Following the enforcement of the Lagos State government's ban on the activities of commercial motorcycle riders popularly known as "Okada" in Apapa and some parts of the state, sanity and normalcy is gradually returning to Apapa, because a high percentage of the commercial motorcyclists have fled to other areas.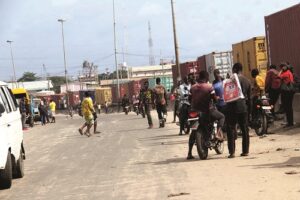 Recall that the Lagos State Governor, Mr Babajide Sanwo-Olu recently issued a total ban on Okada riders' operations in six Local Government Areas of Eti-Osa, Ikeja, Lagos Island, Lagos Mainland, Apapa and Surulere. He had also directed that security operatives should enforce the proscription order in the affected areas which commenced last week on June 1(last Wednesday).
Our correspondent who monitored the level of compliance observed that at Apapa, it was a difficult time for port users as many of them had to resort to trekking, while few rode bicycles to the Apapa port and Tin Can port.
The port access roads, such as Creek Road and Wharf Road which hitherto had a high presence of okadas were avoided by the riders.
However, the enforcement which recorded a high level of compliance in Apapa, was not the same at Mile 2 axis on the Apapa-Osodi expressway, as some of the okada riders were seen operating barely 24 hours into the enforcement. They were seen carrying passengers going as far as Kirikiri and Coconut bus stop, still carrying passengers.
Concerned residents were amazed by the Okada riders' audacious return to Mile 2 and some parts of Apapa. Checks by Shipping Position Daily revealed that the commercial motorcycle riders only ply areas between Mile 2 to Coconut bus stop and other inner streets. They operate more in the early hours of the day and the evenings.
A motorist, Mr. Segun Afolabi lamented the presence of Okada riders on the affected roads particularly at Mile 2, adding that there are no fewer than 50 Okada riders along Oshodi/Apapa expressway in operation.
Afolabi told Shipping Position Daily that: "We were celebrating the disappearance of Okada on our roads, following the enforcement on Wednesday, but unfortunately, they are back, no enforcement agents are sighted anywhere to effect an arrest. I saw no fewer than 50 of them on the Oshodi-Apapa expressway.
Findings by Shipping Position Daily showed that some stakeholders who rely on the use of Okada are now forced to go through the waterways to access Tincan and Liverpool axis from Mile 2 or Marina.
Expressing their woes, roadside vendors of petrol popularly known as "Black Market vendors" also lamented the loss of jobs as there has been a drastic drop in the patronage of their products by okada riders
Stakeholders in the maritime industry have however called on the government to create alternative transport modes to help ameliorate the inconvenience faced by freight forwarders and other port users.
In an exclusive chat with Shipping Position Daily, the Deputy National President of the National Association of Government Approved Freight Forwarders (NAGAFF), Mr Simeon Nwonu, suggested that the State government should provide alternatives by bringing in buses and tricycles to assist port users and residents of Apapa.
"The government should bring in new buses and tricycles to enable people to move around Apapa. The road network in Apapa is very bad. We cannot be trekking long distances just because okada has been banned. People were stranded at Mile 2 as they could not find any vehicle to take them to their offices at Tin Can due to the blocked Mile 2/Tin Can road" Nwonu lamented.
On his part, a freight forwarder who operates at the Tin Can Island Port; Mr Taiwo Fatomilola lampooned the government for not creating alternative means of transportation before the ban.
"I would have loved the state government to empower the NPA to buy some motorcycles that would be registered in their name and license them, so that they would be able to monitor the activities of the riders, to ease off the inconvenience we are passing through", Fatomilola lamented.
Kindly like us on Facebook