Ocean Network Express (ONE) reports it has placed an order for 10 large new containerships as the next step in its growth strategy. The company is also emphasizing the extent of the environmental measures planned for the vessels to make them state-of-the-art.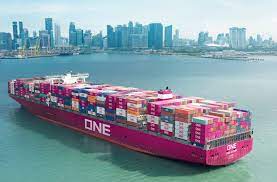 The containership line announced the new vessels, which will have a carrying capacity of over 13,700 TEU and will be delivered in 2025 and 2026, will be ready for methanol and ammonia in line with the company's green strategy aimed at achieving carbon neutrality by 2050. ONE did not disclose the cost for each of the vessels or the yard that has been awarded the newbuild contract.
As part of the company's environmental strategy, ONE said it is having discussions with the shipyard and equipment manufacturers to implement onboard carbon capture and storage on delivery of the vessels. The new ships will also be equipped with a bow cover and other energy-saving technologies. ONE began testing the bow wind shield concept late last year with two of its vessels, the ONE Trust and ONE Tradition. Both vessels are Ultra Large Container Vessels (20,000 TEU). ONE recently said it will continue to install the bow wind shield on our future newbuilds.
The orders are the latest step in a business strategy outlined by CEO Jeremy Nixon a year ago. At the time, he said the company had matured and was now in a phase where it would place construction orders and make strategic investment decisions.  The business strategy calls for a $20 billion investment in vessel and equipment fleet, management systems, and key terminal operations by 2030. Nixon said they would annually invest in 150,000 TEU of capacity.
Last May, ONE placed an order for 10 containerships to be built by Hyundai Heavy Industries and Nihon Shipyard. Due for delivery in 2025, the vessels will have a capacity of 13,700 TEU. That follows a previous order in December 2020 for six 24,000 TEU vessels due to enter service in 2023 and 2024. According to Alphaliner's rankings of the container carriers, ONE is currently seventh with approximately 200 vessels and a capacity above 1.5 million TEU.
"By ensuring a stable deployment of new, state-of-the-art container vessels without constrained by short-term fluctuations in the container market, the company aims to strengthen its fleet competitiveness and meet customer demand for building and maintaining an efficient and reliable supply chain," said ONE in a statement.
The fleet investment comes when the commercial shipping industry is recording a slowdown in demand since August last year, a development that is impacting the industry's near-term profitability. In late January, ONE reported a significant deterioration of third quarter profits that stood at $2.7 billion, down from the $5.5 billion reported in the second quarter, and $4.8 billion realized during the same period in 2021. For the full year, ONE is forecasting a four percent decline in profitability to $14.7 billion.
Having started operations in 2017 through the integration of three Japanese shipping companies, ONE has witnessed significant growth and today operates 156 weekly services to 120 countries with Asia-North America accounting for 32 percent of its business, followed by Asia-Europe at 23 percent and intra-Asia at 22 percent. The company has committed to achieving sustainable maritime transportation by investing in greener assets and technologies, alternative fuels, carbon management, operational efficiency, and clean ship recycling.
shippingposition
Kindly like us on Facebook/twitter