Immediate past executive Governor of Abia State, Chief Orji Uzor Kalu is set to take the nation's maritime sector by the storm following the unprecedented acquisition of nine brand new vessels.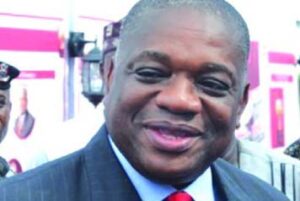 The vessels; yet to be christened are to be commissioned on October, 23, 2008 in far- away Malaysia and at the  NGV Tech. Shipyard where they were built; an occasion that is expected to be graced by the crème de la crème of the Nigerian political, maritime and the banking sector.
Shipping Position Weekly gathered exclusively last week from our usually reliable sources that the vessel cost a whopping US$260Million (or about =N=31Billion) and that the funds were syndicated by a team of European banks but domiciled with Diamond Bank Plc.
Our source, who is very close to the former Governor and founder of Progressive Peoples Alliance (PPA), disclosed further that the brand new vessels are totally Cabotage vessels and that Chief Uzor Kalu is very excited about the potentials that the new ocean liners are likely to bring into the Nigerian maritime sector which has been dominated by foreign interests.
Shipping Position Weekly confirmed that the vessels would immediately begin their voyage to Nigeria and would be received at another round of commissioning ceremony later in the year.
The fresh exploits into the shipping sector comes exactly 10 years after the ex-governor incorporated Slok Nigeria Limited which has now metamorphosed into a conglomerate with diverse interests in shipping, aviation, import and export, among other blue chip interests.
The company had in 1988 purchased a 12,000 deadweight tanker, but has since then increased its fleet capacity to 10 in an industry where indigenous shi owners cry of marginalisation and plead daily for government bail-out.
It was confirmed that Chief Uzor Kalu opted for the acquisition of the vessels to take advantage of the abundant opportunities which exist in Caboatge trade.
Kindly like us on Facebook